NYC's LaGuardia Airport terminal evacuated after suspicious package found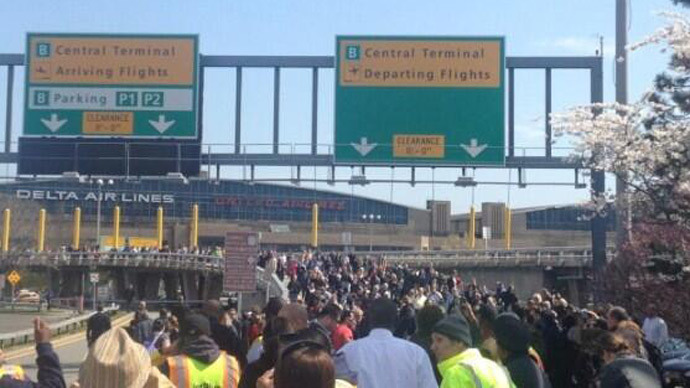 The central terminal of New York's LaGuardia Airport has been evacuated Tuesday morning after a suspicious package was found.
Crowds of people had to wait outside before 'All-clear' was issued and they were allowed to return to the terminal that serves most of LaGuardia's domestic airlines.

The evacuation involved the upper level of the central terminal's building, reported CBS New York.

It began after an electrical device was found at a phone booth on the upper level of Terminal B, WABC reported, citing sources' comments to Eyewitness News. They said next to the bag there was a substance "that looked like marijuana." Besides that, "wires appeared to be coming from the bag."
Bomb squad investigators were called in to examine the finding. Later, authorities said that what at first appeared to be a package of concern was "part of a light fixture," Reuters wrote citing Ron Marsico, a spokesman for the Port Authority of New York & New Jersey.
Delays were said to be expected due to the incident.

The incident began at around 10:30 AM local time and was resolved about an hour later. It occurred less than 24 hours after three people were killed and over 170 injured in two explosions at the finish line of the Boston Marathon.
Around the US security has been significantly bolstered following the bombings.
Not to start a panic but my terminal at laguardia just got evacuated twitter.com/RhinoB/status/…

— Laura Knetzger (@RhinoB) April 16, 2013
People being moved further away from the terminal. #LGAtwitter.com/davehjoo/statu…

— David Joo (@davehjoo) April 16, 2013

Also on Tuesday, a plane that arrived in Boston from Philadelphia was taxied to a far corner of the Logan airport after it was said a suspicious bag was onboard. However, after inspection the luggage onboard US Airways flight 1716 "was deemed harmless," the airport's officials said in a statement. Passengers were transferred to the airport by bus while the examination was carried out, Reuters reported. After the inspection, the plane was brought to the gate.
In a separate incident, two passengers, as well as their baggage, were removed from another flight before its departure from Logan airport. There were conflicting reports on the airline that serviced the flight. Reuters reported it was United Airlines (UAL).

"I can tell you that two passengers and their bags were removed from the flight," a source, who asked not to be identified, told the agency.

According to Boston's local media, it was an American Airlines flight headed to Chicago. The two men who were escorted off the plane "were not sitting next to each other, and speaking Arabic." The men raised some concern among marathon runners on the flight, so the plane was brought back the gate and the men were removed, the Boston news outlet reported.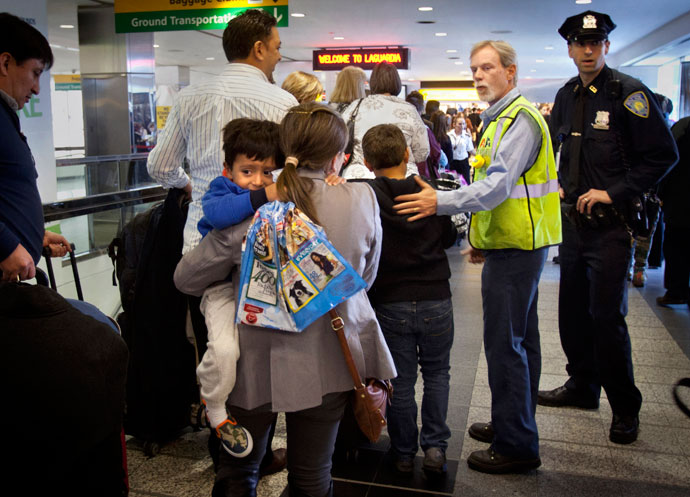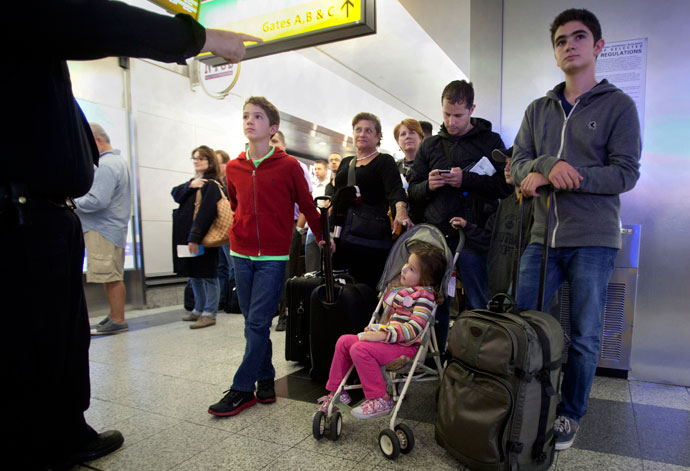 You can share this story on social media: