One-third of California town's police force arrested for scheming cars from poor Hispanics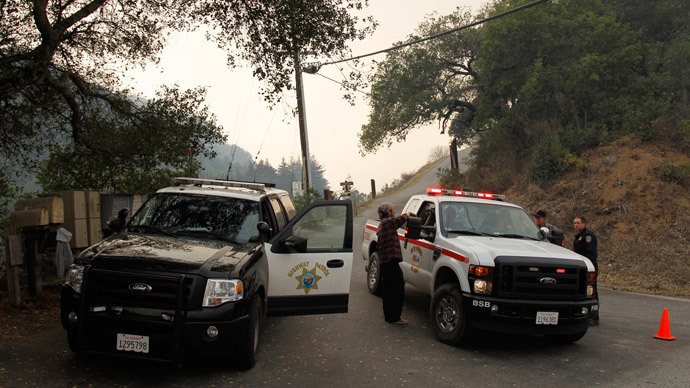 A six-month-long investigation in Central California culminated this week with the arrests of five members of the King City Police Department, the former police chief and the owner of a local towing company.
According to the Monterey County district attorney, for at least three-and-a-half years the city's top police officers participated in a scheme that took advantage of poor area Hispanics by essentially stealing their cars for profit.
Investigators say King City police ordered hundreds of vehicles to be impounded — most often those driven by Hispanic immigrants — and then either kept the cars for themselves or re-sold them for profit.
Journalist Virginia Hennessey of the Monterey Herald said the scandal is "likely the most widespread case of official corruption" in the history of the county, and King City — a town of only 13,000 people and a police force of 17, saw more than one-third of its law enforcement personnel taken off duty as a result of this week's arrest.
Automobiles scheduled to be impounded in King City are supposed to be handled on a rotating basis by one of four local towing companies. According to the complaint unveiled on Tuesday, however, Sgt. Bobby Javier Carrillo sent 87 percent of 200 vehicles impounded between March 2010 and last November to a company owned by Brian Miller — the brother of acting Police Chief Bruce Miller.
In the district attorney's complaint, officials said "people participating in the scheme would receive free vehicles that had been impounded by officers."
"For every 10-15 vehicles impounded by Sgt. Carrillo, he would receive a free vehicle for himself, or whatever he wanted to do with it," Monterey County District Attorney Dean Flippo said during a press conference held on Tuesday this week.
"The victims were economically disadvantaged persons of Hispanic descent who were targeted by having their vehicles impounded, towed and stored by Miller's Towing," Flippo said.
Sgt. Carillo, Chief Miller, former Chief Dominic David Baldiviez and Mario Alonso Mottu Sr. have each been charged with bribery, accepting a bribe or embezzlement as a result of the probe. Two other law enforcement figures — Officers Jaime Andrade and Mark Allen Baker — were apprehended and face unrelated charged of possession of an assault weapon and illegal storage of a firearm, and suspicion of criminal threats, respectively.
"There has been a significant breakdown in the internal leadership of the King City Police Department," Flippo said. "It also appears to me that some officers have dishonored their badge."
Seven individuals in all were arrested Tuesday morning before dawn, and have since been released on bail. Arraignments are scheduled for next week.
Bruce Miller, the acting chief, told KSBW reporter May Chow that he was "completely surprised" by the allegations.
"Accept a bribe? I've never done that. I'm blown away, I did not know this was coming," he said.
Officials say they first became aware of the scheme last September when a visiting investigator assigned to a local homicide case heard several tales from King City residents regarding alleged police misconduct.
During Tuesday's presser in the nearby town of Salinas, Flippo said he heard his fair share of complaints from area Hispanics.
"The police are taking our property. They are taking our cars. They take our money. And we can do nothing about that," he said he was told.
King City is largely an agricultural town around 150 miles southeast of San Francisco, CA.
You can share this story on social media: