California cops go on trial for beating mentally ill homeless man to death
The trial of two former Fullerton, California police officers accused of beating a homeless man to death began on Monday.
On July 5, 2011, 37-year-old Kelly Thomas was hospitalized after a run-in with police that saw him tasered multiple times, beaten with batons and the blunt side of a taser, while yelling for his father for help. Thomas, who suffered from schizophrenia, fell into a coma as a result of the incident and was removed from life support five days later.
Former Fullerton Officer Manuel Ramos, 39, has been charged with second-degree murder and involuntary manslaughter. Meanwhile, former Cpl. Jay Cicinelli, 41, is charged with involuntary manslaughter and the use of excessive force. Both are pleading not guilty.
The trial will likely center on surveillance video footage that captured much of the physical confrontation between Thomas and police. Officers were responding to a report of a possible vehicle break-in when they encountered Thomas, and a video recording from the nearby bus depot showed police striking Thomas with batons and taking him to the ground, among other things.
Thomas is also on record calling for his father's help multiple times, as well as telling police he could not breathe before eventually losing the ability to speak.
"One of the last things, I think, he was able to slowly moan out is: 'Daddy, they're killing me,'" said Ron Thomas, Kelly's father, according to the Daily Mail. "I lay there at night and think about that. It'll get you to the point where you can't function and you just cry a lot."
At one point in the video, Ramos can be seen putting on latex gloves and telling Thomas, "Now you see my fists? ... They're getting ready to [expletive] you up."
Tape recordings also captured Cicinelli, who tasered Thomas numerous times, describing his actions as last resorts.
"I ran out … we ran out of options, so I got the end of my Taser and I probably … I just start smashing his face to hell. He's on something, dude," he said.
While the prosecution, led by District Attorney Tony Rackauckas, will likely focus on the actions of Fullerton police, the defense is expected to argue that Thomas was not blameless in the incident. According to the Los Angeles Times, the attorneys for both officers claim Thomas ignored orders and attempted to fight with police. They will also focus on Thomas' criminal history, drug abuse, and claim that he had a tendency to become violent.
"We're going to put the video in context of the entire evening, and two decades that preceded it," John Barnett, Ramos' attorney, said to NBC Los Angeles. "I think when we do that the video will show no crimes were committed by police officers that night."
Cicinelli's attorney Michael Schwartz also blamed the media for portraying Thomas as a harmless individual.
"For the past 2 1/2 years he's been made out in the media as being a docile, gentle, passive homeless person and the reality is it's almost the opposite," Schwartz said.
Additionally, the jury is scheduled to hear from a doctor who's expected to testify that the cause of Thomas' death was related to heart disease induced by heavy methamphetamine abuse. A toxicology report, however, found that no drugs or alcohol were present in Thomas' system the night he was beaten. A coroner's report, meanwhile, found that chest compression and blunt force trauma to the head resulted in Thomas' death.
"They're trying to say their client was justified in beating Kelly," Ron Thomas said to the Times. "By beating him he died and that's OK because Kelly was such a bad person. A mentally deranged drug user trained to kill."
"It doesn't matter what my son did in his life, it just doesn't matter," he added."It's what the officers did that night. That's what this trial's about."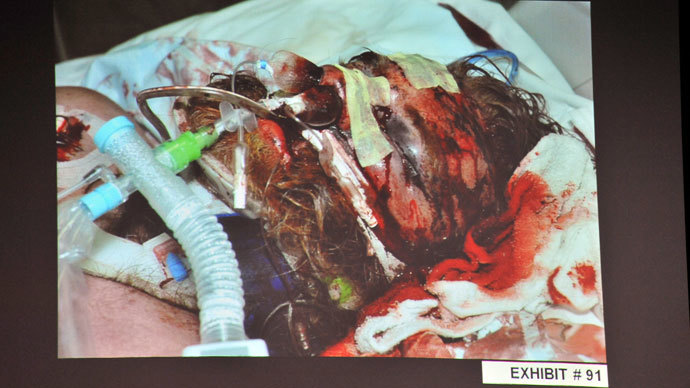 You can share this story on social media: