Kentucky debates use of 'service monkeys' for disabled residents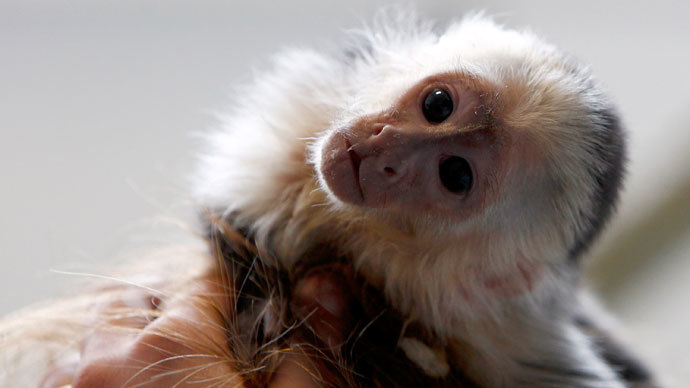 A Kentucky lawmaker is preparing to introduce a bill that would allow paralyzed residents to use service monkeys to assist with daily tasks at home.
Kentucky state Senator John Schickel (R-Union) says he is introducing the proposal in order to expand options for families in need of assistance. He explained that one local family looked into bringing in a service monkey to help their paralyzed daughter, but found it would not be sanctioned by the state.
Monkeys are not considered service animals under the federal Americans with Disabilities Act, but some states have made exceptions.
As reported by the Louisville-based Courier-Journal, Shickel's bill categorizes service monkeys as "any capuchin monkey that is individually trained" by a registered nonprofit "to perform tasks in a home environment for adults living with paralysis who are unable to perform day-to-day tasks and activities for themselves."
The bill would also prohibit service monkeys from being used in public, limiting them to in-home use. Still, numerous groups have come out against the proposal, including the American Veterinary Medical Association, pointing to possible concerns over diseases and safety.
"Monkeys do not belong in human homes, whether as pets or service animals," Sarah Baeckler Davis, executive director of the North American Primate Sanctuary Alliance, told the Associated Press. She added that placing monkeys in homes "creates a significant public safety concern."
April Truitt of Kentucky's Primate Rescue Center echoed similar concerns.
"The intentions of people who are in favor of this are honorable, but misguided," she told the Courier-Journal. "Wild animals aren't suitable as companion animals. Having a wild animal in your home puts both the animal and the owner at risk of getting injured."
"Monkeys are not domesticated animals," she added. "They cannot be made so in one generation or 20."
However, another group disagrees. The Boston-based Helping Hands Monkey Helpers has placed service monkeys across the nation since 1979, and says capuchin monkeys - which are put through a training process of multiple years - make for great assistants in the home.
"We have 35 years' worth of history in our organization saying that they can provide service and they can be safe and wonderful companions to people in need," the group's executive director, Megan Talbert, told AP.
Making the situation more complicated is the fact that former Governor Paul Patton issued an executive order banning the entry of primates into the state following a reported monkeypox outbreak in 2003.
The Kentucky Department of Health has yet to take a stand on the proposal. While the US Justice Department does not approve of using primates as service animals, its guidelines are non-binding and leave room for states to make their own decisions.
Shickel himself isn't sure if his bill will pass, but said it's worth discussing new ideas to help those in need.
"I'm here to open the discussion, talk about it, see if we can work something out," he told the Courier-Journal. "If we can't, we can't. If we can, we can. This is about trying to help people if we can help people...I knew when I filed the bill there would be pros and cons."
You can share this story on social media: