Kentucky prison doctor fired after inmate starves to death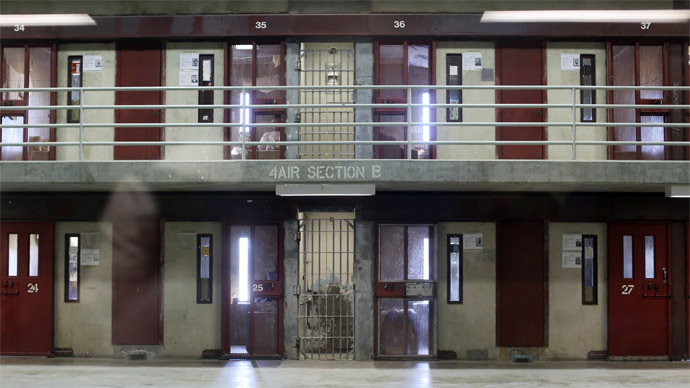 The starvation death of a Kentucky prison inmate has cost a doctor and at least two other officials their jobs after it was determined that sufficient medical treatment may have been able to save the man, according to a new report.
James Kenneth Embry was entering the final three years of a nine-year prison term he earned for drug offenses when, during the spring of last year, he began refusing his anti-anxiety medication. By December, the 57-year-old had started refusing his meals and was engaging in a variety of erratic behaviors, including slamming his head against the door to his cell. Embry, who stood at six feet tall, died in January, weighing just 138 pounds – more than 30 pounds less than he had weighed months before.
Embry's downward spiral and documents from the investigation that followed were first obtained by the Associated Press, which published a report Monday.
An internal investigation at Kentucky State Penitentiary determined that medical professionals inside the facility could have done more to provide Embry with medication to deter his thoughts of suicide and to check on him as he physically and mentally wasted away.
Over six months after Embry stopped taking his medication, he told a prison psychologist that he felt anxious and paranoid. Those calls for help went unheeded, with psychologist Jean Hinkebein deciding on December 3 that Embry's comments about hurting himself were not conclusive enough to be proof that he had any mental issues. His request to start taking medication again was denied.
A week later, Embry told staff that he didn't "have any hope," and was taken to an observation cell where he stopped accepting most food. At least one nurse who met with Embry during this time advised the inmate to begin eating again. Even though he ignored that advice, Embry was soon taken off hunger strike watch because he had been drinking tea.
Embry passed away on January 13. Dehydration was deemed the primary cause of death, with starvation and a number of other maladies listed as contributing factors.
An investigation began just days later, with authorities focusing much of their gaze on lead physician Steve Hiland. Hiland stood by his decision to take Embry off hunger strike watch, because he thought a protest consisted only of "six or eight meals" being missed and that it ended when the inmate consumed liquid. When asked how inmates should be helped off hunger strike, Hiland admitted that staff members "usually don't have to worry about it because they (the inmates) eventually give up."
Greg Belzley, a Louisville, Kentucky-based lawyer who is familiar with the case, told journalist Brett Barrouquere that Embry's death is a shocking example of negligence.
"It's just very, very, very disturbing," he said. "How do you just watch a man starve to death?"
An inmate on hunger strike is required by the Kentucky Department of Corrections to have his vital signs checked no less than three times a week and required to undergo frequent consultations with doctors and psychologists. Exactly why that did not happen is unclear, with sources telling AP that they were either not aware of the proper protocol or that psychologist Hinkebein prevented such checks.
Hiland has been fired, Hinkebein is on administrative leave with her dismissal pending, and a third member of the medical team is also soon to be officially dismissed. The Kentucky Attorney General's Office has said that a criminal review of Embry's demise is in motion.
The prison investigation obtained by Barrouquere found a number of issues inside the facility, with poor communication being one of the most damaging factors behind large mistakes made inside the prison. Hiland, for his part, denies any wrongdoing regarding Embry's death, accusing the state of using this incident as a way to rid itself of his $164,554 annual salary in favor of someone cheaper.
"I never saw this guy, never met him," Hiland said. "I was convinced it was a way to get rid of me. I was told I should have known about it."