Officer acquitted in Kelly Thomas' death receiving $40k a year pension from LAPD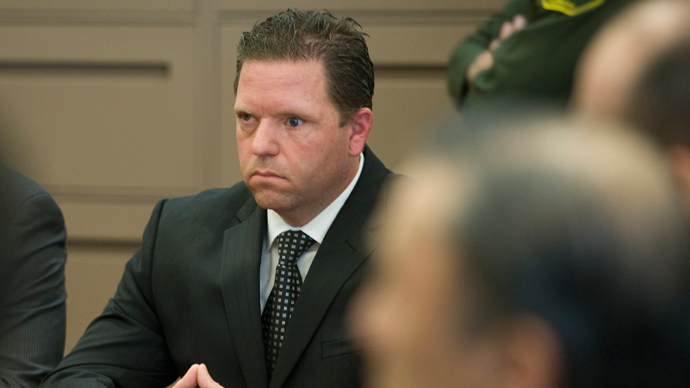 One of the two former Fullerton, California police department officers acquitted this month in the brutal 2011 beating death of Kelly Thomas has for years been receiving a $40,000 annual pension from the city of Los Angeles.
Before becoming an officer of the law in the small Southern California city of Fullerton, Cicinelli got his start within the ranks of the LAPD. His career there ended early, however, when the rookie cop was shot in the face in 1996 just three weeks after graduating from the police academy, costing him his left eye.
The man convicted of shooting Cicinelli, Raul Jimenez, ultimately was sentenced to life in prison for that crime. With the LAPD unable to find a place for the one-eyed officer, however, Cicinelli settled with the city and agreed to retire early in exchange for around 70 percent of his annual salary as part of a disability pension.
As the Los Angeles Times reported in 2011, that agreement didn't keep Cicinelli away from law enforcement.
"Despite his disability, Cicinelli was hired as an officer by the Fullerton Police Department, where he worked his way up from a reserve officer to a corporal earning $88,544 a year," Abby Sewell reported for the paper then.
According to that same Nov. 2011 article, Cicinelli has been receiving nearly $40,000 from the city of Los Angeles ever since being blinded in the line of duty 18 years ago. Cicinelli continued to cash those LA-sanctioned paychecks during the 12-year span he spent with the Fullerton PD, but another violent altercation eventually cost him that job when he and another officer, Manuel Ramos, were caught on film in June 2011 beating Kelly Thomas, a mentally-disabled homeless man, outside of a Fullerton metro stop.
The city pension board reconvened later that year to reexamine the case and consider stripping Cicinelli of his LAPD benefits in light of the Thomas killing. They ultimately decided to allow those payments to continue, however, though Cicinelli was eventually fired from the Fullerton police more than a year after the Kelly incident first unfolded. All the while, though, Cicinelli continued to be compensated by the city of Los Angeles.
A Santa Ana, CA jury of 12 earlier this month acquitted Cicinelli and Ramos of charges related to Thomas' death and, as RT reported last week, at least one of those officers is interested in rejoining the force.
"I was wrongfully terminated. How do you argue with a jury of 12 who all agree on the same thing?" Cicinelli told the Orange County Register last week.
Now as Fullerton officials are left to consider whether or not Cicinelli is worthy of being rehired, they'll find themselves far from a situation in which they're asked to sympathize with a police officer left penniless. Should Cicinelli be reinstated at the original pay he made when he joined the Fullerton PD in the late 1990s, he'd collect a combined total of nearly $130,000 a year between both agencies. Meanwhile, though, the Department of Justice announced after the latest not-guilty verdict that the Federal Bureau of Investigation may consider pressing charges against the officers involved in the death of Kelly Thomas.
You can share this story on social media: