JPMorgan gives CEO Jamie Dimon a raise despite shelling out $20 bln in fines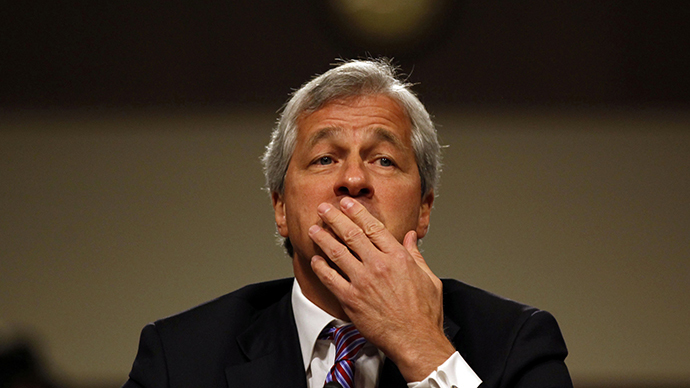 It was only a year ago that JPMorgan CEO Jamie Dimon was getting his pay docked by millions of dollars. Now, though, the company is giving their chief executive a raise.
Despite the fact that JPMorgan was hit with $20 billion worth of fines during 2013, Dimon will receive $1.5 million for the year. That base salary is virtually unchanged from the year before, but the company will also pay him an additional $18.5 million in restricted stock, according to a public filing with the Securities and Exchange Commission.
According to CNBC, some board members were divided over the possibility of raising Dimon's compensation levels. Those opposed cited the record levels of fines the company was ordered to pay out as a reason to keep his salary where it was, while others believed Dimon deserved a raise due to the difficult landscape he was operating in.
Just last year, Dimon had his pay slashed from $23 million to $11.5 million following revelations in the 'London Whale' scandal that showed the company's traders manipulated bank records in order to cover up $6.2 billion in losses. As a result, JPMorgan agreed to pay nearly $1 billion in fines to settle the case against it.
Over the course of 2013, JPMorgan also settled cases involving its role in selling bad loans that precipitated the 2008 financial crisis, including a $13 billion agreement with the Department of Justice announced in November.
As RT noted last year, this fine was more than triple the $4 billion payout that BP oil company paid for its role in the Gulf Coast oil spill. JPMorgan was tagged for overvaluing the quality of the mortgage bonds it sold to investors such as Fannie Mae and Freddie Mac between 2005 and 2007.
The terms of the settlement dictate that the bank will pay more than $6 billion to reimburse investors, put $4 billion towards a mortgage relief program for affected homeowners, and $2 billion to settle civil cases unfolding in five states.
In spite of all these penalties – the company was also included in the group of banks fined 1.7 billion euros for manipulating lending rates – JPMorgan's stock price has risen about 22 percent over the last year. Following a quarterly loss for the first time in 10 years during the third quarter of 2013, the company recently reported a profit of $5.28 billion in the fourth quarter.
You can share this story on social media: