JPMorgan admits to losing $5.8 billion this year so far
Published time: 13 Jul, 2012 14:32
Edited time: 13 Jul, 2012 18:32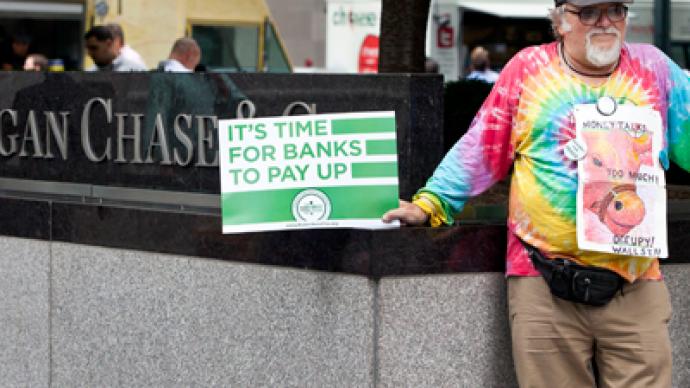 There's bad news out of Wall Street this week after JPMorgan Chase admits that a trading goof earlier this year has helped earn the country's biggest bank $5.8 billion in losses — nearly triple the original estimate.
JPMorgan Chase CEO Jamie Dimon tells reporters early Friday that the botched deal overseen by then-Chief Investment Officer Ina Drew is now believed to have cost the bank around $4.4 billion in the second quarter for 2012. Originally JPMorgan staffers saw the gaffe as costing them only around $2 billion, but between Friday morning's revelation and the revisions made on its first quarter losses, the actual amount lost in 2012 for the bank stands to be around $5.8 billion, notwithstanding any further developments.
Speaking to the press early Friday, Dimon tells the media, "we don't take it lightly," but adds that he believes the snafu was not part of any larger screw-up.
"We're not making light of this error, but we do think it's an isolated event," Dimon pleads.
Dimon has dismissed claims that the mix-up earlier this year will have long-lasting effects on the bank, but has also been open to admitting their faults. In a statement delivered in May, Dimon said, "We maintain our fortress balance sheet and capital strength to withstand setbacks like this, and we will learn from our mistakes and remain diligently focused on our clients, who count on us every day."
Drew, the former CIO for the bank, resigned from that role in May after news of the gaffe made international headlines. Even after overseeing a deal that cost the company only an estimated $2 billion at the time, though, Drew's departure from JPMorgan was accompanied by a payout expected to bring her $15 million personally by walking away.
"Despite our recent losses in the CIO, Ina's vast contributions to our company should not be overshadowed by these events," Dimon insisted after the resignation was made public.
In this Friday's statement, Dimon adds, "We have put most of this problem behind us and we can now focus our full energy on what we do best."
Marty Mosby, an analyst that follows JPMorgan for Guggenheim Securities, tells USA Today that the new developments about the trading loss doesn't come as too big of a surprise on Wall Street. The real shocker, however, was that JPMorgan has revised is first-quarter earnings to account for a $459 million in additional losses that it is only admitting too now.
"The trading loss was right in line with what we expected," says Mosby. "And the actual report on earnings was much stronger than we expected. What we didn't expect was the restatement. It raises further uncertainty and could lead to reviews from the Securities and Exchange Commission" and other regulators.
The bank agrees that the latest development "raises questions about the integrity" of other trades made this year.