Man jailed for threatening Obama on Twitter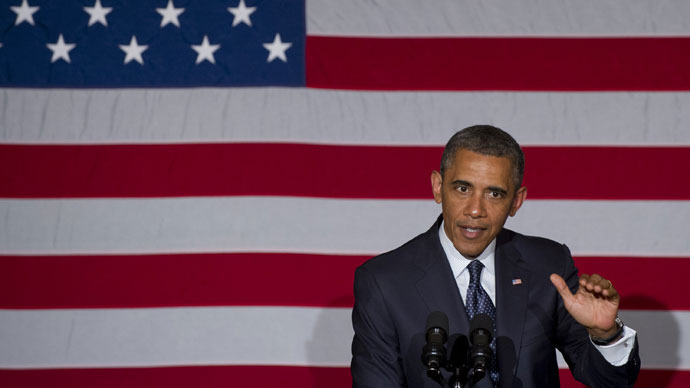 A Florida man has been sentenced to prison after pleading guilty to threatening United States President Barack Obama over Twitter.
Donte Jamar Sims, 22, will serve six months in prison plus one year of supervised release for tweets he published last year. He pleaded guilty to threatening the president's life last October and was sentenced in a Charlotte, North Carolina courtroom on Wednesday.

Authorities obtained a search warrant for user records pertaining to the Twitter account "DestroyLeague_D" last year after becoming aware of at least five tweets that discussed plotting to kill the president in advance of Mr. Obama's address at the 2012 Democratic National Convention in September. They were able to link the social media account to Sims, who went on to plead guilty to one count of knowingly and willfully making a threat to take the life of the president.

"Plotting president Obama's Murder," "Ima Assassinate president Obama this evening!" and "The Secret Service is gonna be defenseless once I aim the Assault Rifle at Barack's Forehead" were three of the micromessages that raised the suspicion of authorities.

Sims told investigators that he had been smoking marijuana when he made the remarks over Twitter.
 
"Sims stated that he published the statements because he hated President Obama," a Secret Service agent wrote in an affidavit last year. "Sims asserted that he was high on marijuana when he made the threats but that he understood what he was doing and that it was wrong."

"He asserted that he was sorry he sent the messages threatening to kill the president of the United States and provided me with a written apology," wrote the agent.

According to the Charlotte Observer, Sims entered his guilty plea in October in hopes of avoiding a prison sentence. Citing the seriousness of the crime, however, a federal judge decided ultimately that a six-month stint behind bars was warranted.

Chief US District Judge Robert Conrad said "the seriousness of the offense and the need for the sentence to promote a respect for the law" prompted him to order the sentence, the paper reported.

Sims faced a maximum of five years in prison and a $250,000 fine. Obama arrived in Charlotte days after Sims' tweets were published and accepted the Democratic Party's nomination to run for a second term. He defeated Republican challenger Mitt Romney in November.
You can share this story on social media: