Female soldier gets jail time for fleeing to Canada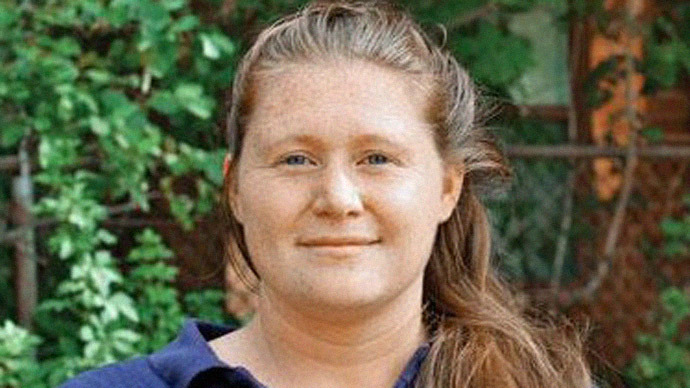 A US soldier and pregnant mother of four has been sentenced to 10 months in military prison for refusing to serve in Iraq and fleeing to Canada.
Pfc. Kimberly Rivera, 30, on Monday plead guilty to two counts of desertion for avoiding her second tour in Iraq. The Army private had served in Iraq in 2006, and deserted during her two-week leave in the US in 2007. She fled with her husband and children to Canada in protest of what she called an "illegal and immoral war" – a war that she said she became disillusioned with.
Upon arrival in Canada, Rivera applied for refugee status, but was threatened with deportation in 2009. Her requests for permanent residency and residency based on humanitarian grounds were also rejected, but the young woman continued to appeal the deportation order until a second one was issued in 2012. She spent five years living in Canada before turning herself in to authorities at the US border in September.
The Canadian-based War Resisters Support Campaign launched a petition protesting her most recent deportation order, but Canadian authorities rejected their request to let Rivera stay. About 19,000 people had signed the online petition and rallies were held throughout Canada, calling on the government to let Rivera make her home in the country. Nobel Peace Prize winner Archbishop Desmond Tutu also protested the order, but failed to impact the government's decision.
"Military deserters from the United States are not genuine refugees under the internationally accepted meaning of the term. These unfounded claims clog up our system for genuine refugees who are actually fleeing persecution," Canadian Immigration Minister Jason Kenney's spokeswoman, Alexis Pavlich, said last September.
During her sentencing hearing in the US, attorneys representing Rivera argued that the woman's husband had threatened to leave her and take the children if she returned to Iraq. She alleges that she was partially motivated to desert the military because of the prospect of losing her children.
James Matthew Branun, a civilian defense attorney representing the young woman, argued before the judge that Rivera did not know she was able to file as a conscientious objector of the Iraq War, the Colorado Springs Gazette reports. In many cases, conscientious objectors are appointed to alternative services as a substitute for their military assignments. Since Rivera was morally opposed to the Iraq War and claims she could never kill another person, she could have requested to serve the military in a different way.
But after pleading guilty to her desertion, Rivera was sentenced to 10 months in military prison and a bad conduct discharge.
The young mother is the third Iraq war resister that was deported from Canada and now faces a jail sentence. Robert Long and Clifford Cornell, both deserters of the Iraq war, were dishonorably discharged and deported from Canada. Long was sentenced to 15 months in military prison in 2008.
The War Resisters Support Campaign, a Canadian activist group, estimates that there are about 200 other Iraq war deserters currently living in Canada.
You can share this story on social media: