Servicemen steal and sell nearly $2 million in guns
Published time: 16 May, 2012 21:32
Edited time: 17 May, 2012 01:32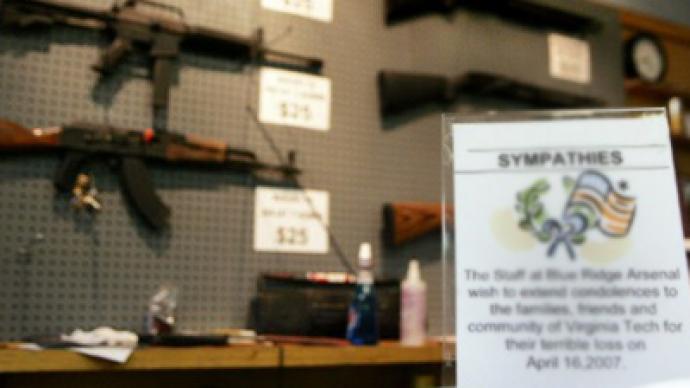 Investigators have tracked down around $1.8 million in missing US military weaponry, and no, the loot wasn't just left behind in barracks and bunkers. Instead it went directly to street gangs.
The results of a nearly two-year-old probe established to investigate missing military gear reveals that nearly $2 million worth of assault rifles, night-vision goggles and other guns and gadgets were pilfered by servicemen from within the Armed Forces and then sold illegally both through local outlets to gangs and on the Internet to residents of foreign countries.
So far more than 60 people have been implicated in the undercover sting, which began nearly two years ago by officers with the Naval Criminal Investigative Service. Along the way, federal agencies as diverse as the Department of Homeland Security, the Bureau of Alcohol, Tobacco, Firearms and Explosives and even the FBI have been brought into the mix.
The results of the investigation were unearthed on Tuesday this week by reporters at the Daily News in Jacksonville, North Carolina. Local agencies including the N.C. State Bureau of Investigations, the Onslow County Sheriff's Office and the Jacksonville Police Department have been named in the probe as well.
"The case is still active and ongoing in partnership with several other local, state and federal law enforcement agencies," Ed Buice, a public affairs officer for NCIS in Quantico, Va., explains to the paper. "I can't go into much detail."
And although information is sparse for now, those willing to speak say that it wasn't just a vast, international conspiracy at play. For some, the whole exchange might have just been fun and games.
"We're talking about sophisticated, hi-tech flashlights that cost the government up to $800 per unit. The temptation and ease with which to steal and sell them, for some, is irresistible," a government official familiar with the operations adds to the Daily News.
Adding to the report, the NCIS' Buice says that the results of the probe suggest that the under-the-radar weapons trade was becoming "a growing problem." That problem, reveals the investigation, spread as far east as China. At other times, military personal were taking to eBay, Craiglist and yard sales to unload gear that either wasn't sold overseas or pawned off on local gangs.