Hypothermia warning issued to New Yorkers in wake of superstorm
Published time: 4 Nov, 2012 12:25
Edited time: 4 Nov, 2012 16:25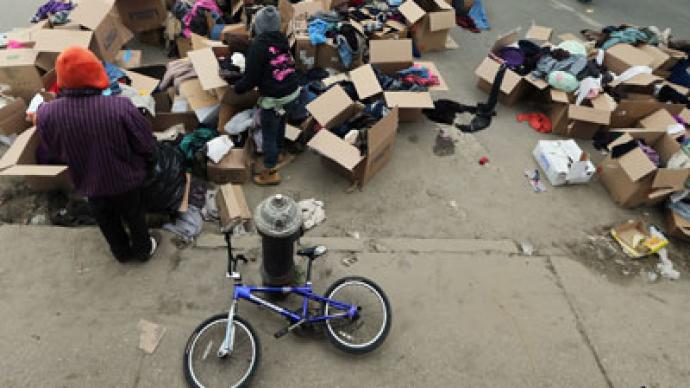 New York's mayor issued a hypothermia warning as temperatures plummet, endangering the lives of thousands still without heating after Hurricane Sandy. He decried energy companies for not restoring power quick enough in view of the cold snap.
Forecasters have predicted that temperatures will drop as low as two degrees Celsius and, with a new storm expected to arrive this coming week, bringing cold winds, rain and snow, authorities have issued the health warning.
To compete with the dropping temperatures the Red Cross has doubled its efforts in the city, offering warming shelters and blankets to those to whom power has not been restored.
"We're working closely with emergency operations centers to stand up warming facilities, warming shelters, and stocking those with additional blankets, pillows and everything needed." said Charley Shimanski, senior vice president of disaster services to Sky News.
New York's Mayor Michael Bloomberg has criticized energy companies in Long Island for not working fast enough to restore power to deprived areas of the city. He called it "unacceptable" that some areas would have to wait up to two weeks before being re-connected.

"In our view LIPA [Long Island Power Authority], as it's called, has not acted aggressively enough," Bloomberg said. "We realize that LIPA has outages throughout Long Island, but the Rockaways were the hardest hit, and when it comes to prioritizing resources we think they should be first online. So far that does not appear to be the case and that is just not acceptable."
Bloomberg also said it may take a couple of days for emergency petrol supplies brought in from outside the city on barges to filter through, although he did say that most of the city's subway system was now up and running. He added that the city's recovery was far from over and "I don't think anybody should think that we're out of the woods."
"It's chaos, it's pandemonium out here," said Chris Damon, who had been waiting for several hours for petrol, to AP. "It seems like nobody has any answers."

A petrol station in Queens where a tanker was filling up cars one at a time caused a line-up of more than 400 vehicles.
Trucks have been dispatched throughout the city, but the measure has fallen woefully short of demand. A fuel rationing plan is currently in place and authorities have warned citizens to give priority to rescue and law-enforcement vehicles.
The area worst hit by the so-called Superstorm is Queens, with over 81,000 people without power. The total death toll within the city in the wake of the storm is 42 so far, but there have been no reports of hypothermia-related hospitalizations. In total over 900,000 people in the New York metropolitan area remain without gas or electricity.
­
Not all doom and gloom
In the wake of Hurricane Sandy, which caused havoc in New York, police have reported an unexpected slump in crime levels in the city.
Citing statistics, officers said that murders in the city had fallen by a record 81 per cent compared with the same period in 2011. Moreover, rape and petty theft rates are also lower than usual.
"We have a large number of police officers deployed, we have light towers deployed, radio cars patrolling. We are focused on the blackout areas," he said. "We are doing, I think, an excellent job," said the New York Chief of police.