Secret panel approves executions of Americans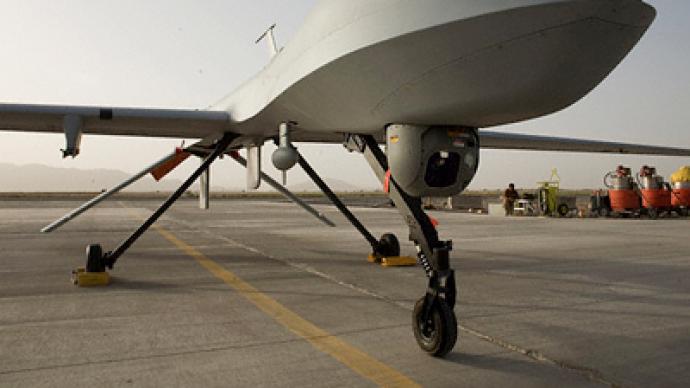 Criticism over the sudden CIA-led drone strike in Yemen that killed two American citizens last week has promoted questions over which authorities can approve such secretive assassinations.
Now a report reveals that a top-secret panel of high-up officials sent their suggestion all the way to President Obama.According to a report released today by Reuters, the deaths of al-Qaeda linked militants Anwar al-Awlaki and Samir Khan stemmed after their names made it to a "capture or kill list" that was put together by a secret panel of top government brass. That clandestine collective, however, does not keep a record of their neither rulings, nor do laws exist that establish its operation procedure or existence whatsoever.The secrecy behind the sneak attack and lack of transparency is causing critics from across the board to question what many are calling extrajudicial killings. Both al-Awlaki and Khan were American citizens that were never formally charged with a crime or brought to trial. It was alleged ties with al-Qaeda and connections to the September 11 terrorist attacks that put their names on the list.Does this mean that the US government can kill anyone it perceives as a threat without bringing them to trial? So far, yes.In response, Republican presidential hopeful and Texas Congressman Ron Paul was quick to respond, speaking hours after the announcement that the United States should think twice before "assassinating American citizens without charges."Less than a week later, Congressman Paul is continuing to question the legitimacy of the executions and warned members of the press in Washington DC yesterday that they could be next on their government's hit list."Can you imagine being put on a list because you're a threat? What's going to happen when they come to the media?" asked Paul. "What if the media becomes a threat? … This is the way this works. It's incrementalism."While the role of the panel that approves the killings is more than murky, Reuters has managed to speak to top officials speaking anonymously on the operation procedure that brought down the two alleged terrorists last week. Grilled by reporters on Tuesday this week, Representative Dutch Ruppersberger, a Democrat on the House Intelligence Committee, said that the panel is an offset of the White House's National Security Council, which puts forth suggestions that eventually go to the president. "The National Security Council does the investigation, they have lawyers, they review, they look at the situation, you have input from the military, and also, we make sure that we follow international law," Ruppersberger told reporters this week.Officials speaking on condition of anonymity relayed to Reuters that the panel that works under the NSC draft up a roster of names to include on the hit-list, which is then sent to Cabinet secretaries and intelligence unit chiefs for approval. They add that attorneys with the Justice Department are consulted before an execution is carried out, and although President Obama isn't required to sign-off on the killings, he can veto any decision and spare a name from being added.
You can share this story on social media: