Osama's replacement praises 9/11 for allowing Arab Spring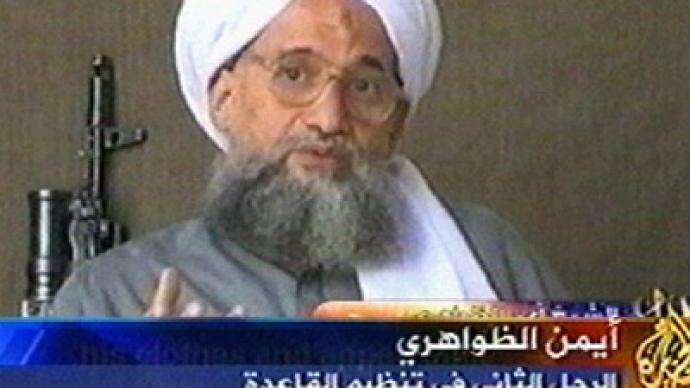 The newest leader of al-Qaeda has released a recording in which he credits the 9/11 terrorist attacks for paving way for the Arab Spring and commands rebels to continue their attacks on American-aligned governments in the Middle East.
In a recording released in conjunction with the ten-year anniversary of the September 11 attacks, Ayman al-Zawahri said that "By striking the head of the world criminal" a decade earlier, Arabs have become free to revolt and no longer fear repercussions from the United States of America and elsewhere. "Ten years have passed since the blessed attacks on New York and Washington and Pennsylvania, that mighty event which shook and continues to shake the pillars of the global crusade," says Zawahri. He adds that "The Arab people have been freed from the chains of fear and terror, so who is the winner and who is the loser?"Zawahri served as deputy on the al-Qaeda rule of Osama bin Laden and replaced him as head of the insurgency after Navy SEALs executed the former leader in May of this year. The new recordings, however, actually included a never-before-released video of bin Laden that was filmed before his death.In the recording, bin Laden warns America that capitalism and large corporations can dangerously corrupt the country into tyranny and suggested that that was the reason for America's near bankruptcy and continuing wars. One translation of his speech published by NBC has bin Laden warning Americans of "falling as slaves" to the control of big corporations. Zawahri added a plea of his own in the recording for extremists to continue attacks on the US, saying, "I encourage every Muslim who desires his nation's freedom to undertake to hurt America for the more we put pressure on it, the freer we will be from its agents."Islamic militants consider Hosni Mubarak's rule of Egypt to be too close to the workings of western governments, and have long since waged attacks against him. Zawahri asks militants to continue the war in Egypt and usurp Mubarak and the leaders of Tunisia and Libya so that Islamic rule can be installed in their place. The United States has lost key regional allies as a result of the Arab Spring, says Zawahri, and "The blessed rebellious Arab earthquake has turned America's calculations head over heels."
You can share this story on social media: