Veterans' hospital exposes hundreds to HIV and hepatitis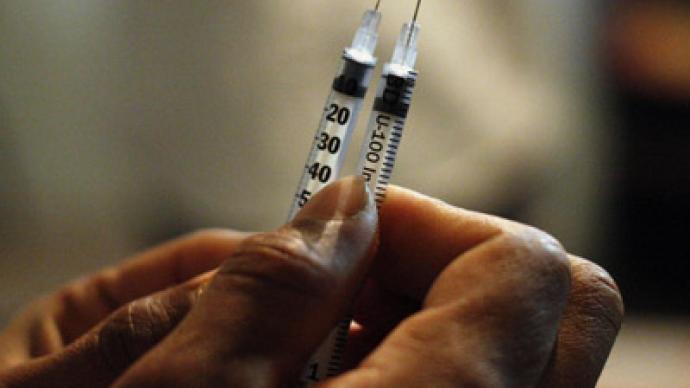 A New York veteran's hospital may have exposed more than 700 of its patients with HIV, hepatitis B or hepatitis C by mistakenly reusing its insulin pens, which are used to inject diabetes patients with a hormone produced by the pancreas.
Patients at the Buffalo Veterans Administration Center are now at risk of acquiring the deadly diseases because of the mistakes made by hospital staff, who didn't always label the insulin pens for individual patients and therefore reused them on others."Although the pen needles were always changed, an insulin pen may have been used on more than one patient," VA spokeswoman Evangeline Conley told the Associated Press. The reuse of the pens went on for nearly two weeks, putting all patients who received the injections between Oct. 19 and Nov. 1 at risk for the deadly infections. The procedural errors were not discovered until the conduct of a routine pharmacy inspection in November.Once the hospital discovered the error, it took immediate action to avoid reusing the pens, and began offering free blood tests to any of the patients who might have been contaminated.Rep. Chris Collis, R-NY, said that based on his conversation with Dr. Robert A. Petzel, undersecretary for health at the Department of Veteran Affairs, the risk of an HIV or hepatitis infection is very low."But it's not out of the realm of possibility, and that's why they're testing everyone," Collins told the Buffalo News. In order to become contaminated, an infected patient's bodily fluid would have had to flow back into the insulin pens. The risk would have been greater if the needles themselves had been reused."That would have been a grave concern," Collins said.Even if the chance of infection is low, any risk for HIV or hepatitis is too high of a risk. Sen. Charles E. Schumer, D-NY, was shocked when he heard about the reuse of the insulin pens and does not believe it should be so easily dismissed."What has happened can only be described as the grossest of irresponsible and dangerous behavior," he said. "The VA must immediately deal with the health of those that were victimized, and promptly launch a top-to-bottom investigation to root out how this happened and tell us what is being done to prevent it from ever happening again, in Buffalo or elsewhere in the country."A similar case of unsanitary hospital procedures occurred in June 2010, when a Missouri VA hospital exposed more than 1,800 veterans to both HIV and hepatitis. Patients who had visited the John Cochran VA Medical Center in St. Louis for dental work were treated using dental instruments that had been used by others and not been cleaned properly."This is absolutely unacceptable," then-Rep. Russ Carnahan told CNN. "No veteran who has served and risked their life for this great nation should have to worry about their personal safety when receiving much-needed healthcare services from a Veterans Administration hospital."But with the most recent case in Buffalo, veterans are once again facing the chance of acquiring HIV, hepatitis B and hepatitis C due to unhygienic practices.
You can share this story on social media: