Army general charged with sex crimes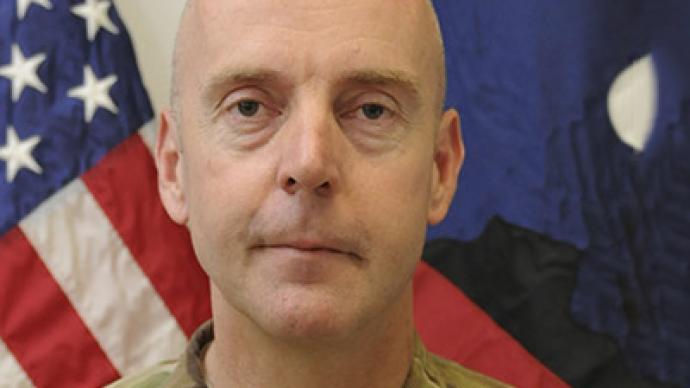 A Brigadier general in the US Army has been charged with forcible sodomy and a slew of other sex crimes.
Brig. Gen. Jeffrey A. Sinclair, an active member of the Army with nearly three decades' worth of experience, "has been charged with multiple violations of the Uniform Code of Military Justice," Col. Kevin V. Arata, a public affairs officer for the 18th Airborne Corps, confirmed to the press on Wednesday. Sinclair had been serving in Afghanistan earlier this year until allegations were brought forth and he was reassigned to domestic duties back in May. Now after months of investigation, the general has been formally charged and could face courts martial over the charges, which include forced sex, wrongful sexual conduct, violating an order, possessing pornography and alcohol while deployed and misusing a government travel charge card and filing fraudulent claims.Speaking to the Associated Press, two US defense officials say on condition of anonymity that Brig. Sinclair is being charged with having inappropriate relationship with several female subordinates as well.Sinclair was made aware of his charges on Monday and the news was relayed to the press two days later. Next, Sinclair will be the subject of an Article 32 investigation, which will determine what route to take next. The result of that hearing, which has not been assigned a date yet, will determine how seriously the military will pursue the case. During Wednesday's press conference at Fort Bragg, Col. Arata declined to answer any questions on the case.Since being sent back from Afghanistan, Sinclair has served as a special assistant to the commanding general of 18th Airborne Corps, the Associated Press reports. Sinclair has previously served in the first Gulf war and was deployed twice to Iraq during his military career, which has so far stretched the span of 27 years. A biography published by a Fort Bragg reporter at Patch.com adds that Sinclair has received a political science degree from West Virginia University, a master's degree from Central Michigan University, and a master's degree in National Security and Strategic Studies from the Naval War College.Earlier this year, Army Brig. Gen. Roger Duff pleaded guilty to charges of conduct unbecoming an officer and other crimes. He was fined $10,000 and forced to retire.
You can share this story on social media: