Los Angeles homeless fall victim to serial slasher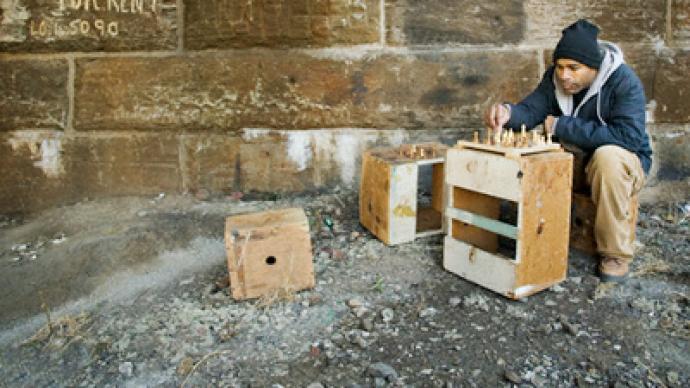 Authorities in the Los Angeles, California area are on the lookout for a man who is being considered a person of interests in a string of attacks that have targeted homeless people across LA.
Police say a man going by both David Ben Keyes and Courtney Anthony Robinson is a person of interest as they continue a probe into three recent stabbings across greater Los Angeles. In all three instances, middle-aged homeless persons have been attacked by an assailant armed with a knife who is believed to be leaving rambling "death warrants" on the scene behind him.
Officials say that Keyes' name is signed to each letter in a series of notes left on the scene that are typewritten and share certain themes with one another, though authorities argue that they cannot go into specifics as they continue their investigation. They have, however, listed him as a person of interest and are on the lookout for him as they widen their probe.
On a Facebook page operated under the name David Ben Keyes, posts published by the author messages about the Roman Catholic Church and same-sex marriage, as well as, in at least one instance, military tribunals.
So far three people have been targeted in just the last month, and with Keyes still on the loose, authorities fear a fourth or fifth victim might not be far away.
"With numbers, there is safety," LAPD Capt. Billy Hayes tells reporters this week at a press conference.
Since all of the attacks so far have targeted people on the street, Capt. Hayes has asked Los Angeles' homeless to take shelter when possible to protect themselves. With the Institute for the Study of Homelessness and Poverty at the Weingart Center estimating that a quarter-of-a-million people live on the streets of Los Angeles, though, insuring all are offered shelter is surely a task impossible for the city.
The first victim, a 56-year-old man, was slashed with what they described as a large "hunting knife" in downtown Los Angeles on July 3. On this week, two other victims were identified — one in Santa Monica and another in Hollywood — suffering from similar wounds. Similar "death warrants" were discovered near the scene of the crime in all three instances.
Friday afternoon, Los Angeles police Lt. Andy Neiman told reporters that authorities discovered that "David Ben Keyes" is not the actual name of the man they're looking for, but have yet to confirm if his other alias is considered his legal identity. Lt. Neiman also stressed that Keyes is not a suspect, but only sought for questioning in the attacks.
In one photo of the man posted on his alleged Facebook page, the suspect is seen posing holding a knife. On a seperate online profile, he describes himself as the CEO, CFO and "Priest-scribe" of David Ben Keyes Industries, as well as a musician and author of "original psalms, proverbs, love letters, poems and riddles for the Roman Catholic Church and Jewish Synagogues."