Prosecutors seeking death penalty for accused Colorado shooter Holmes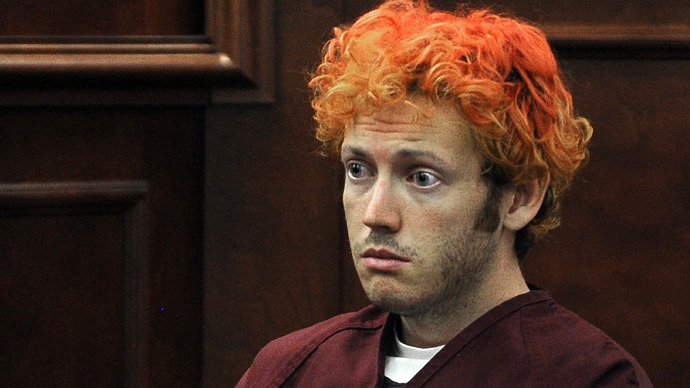 Prosecutors will officially seek the death penalty for James Holmes, the 25-year-old Colorado man accused of killing a dozen moviegoers at an Aurora, CO cinema last July.
In a Centennial, CO courtroom Monday morning, prosecutors confirmed that they'd be asking that Holmes be put to death if convicted over the gruesome massacre that occurred last year just minutes into a midnight screening of "Batman: The Dark Knight Rises."
"It is my determination and my intention that in this case for James Eagan Holmes, justice is death," Arapahoe County District Attorney George Brauchler said, reports CNN.
According to the Associated Press, officials with the Arapahoe County District Attorney's Office reached out to more than 800 family members of victims of last year's assault in making the determination.
Shortly after the prosecutors confirmed that they'd seek execution for Holmes, the presiding judge announced that the case, originally scheduled for this August, will be postponed. Now Holmes will not be formally tried until February 2014 at the earliest.

Twelve people in all were killed in the July 20, 2012 rampage, with an additional 70 suffering serious injuries. Holmes surrendered to authorities immediately after the assault and has been in the custody of police ever since, awaiting an eventual trial where he'll have to go up against 166 counts of murder and attempted murder.
Last week, attorneys for Holmes asked prosecutors to accept a deal in which he would be spared the death penalty in lieu of a guilty plea. "Mr. Holmes is currently willing to resolve the case to bring the proceedings to a speedy and definite conclusion for all involved," Holmes' lawyers said in their motion. The request was refused, however, when the Arapahoe County District Attorney firing back that "the defendant knows that he is guilty, the defense attorneys know that he is guilty and that both of them know that he was not criminally insane."
"Not only improper, but grossly improper," prosecutors said of the proposed plea in a Thursday court filing, calling the request "For the intended purpose of generating predictable publicity."
Even with the DA asking for the death penalty on Monday, though, Holmes isn't necessarily guaranteed to be killed by the court. "Even if they give notice on Monday that they are seeking the death penalty, they can come off that and enter into a plea bargain any time," attorney Dan Recht, former president of the Colorado Criminal Defense Bar, told the Associated Press.
"I support the death penalty for the severity of the case, what he has done, the amount of people it's affected. Me personally knowing my whole life that he's alive and he's being protected for killing my child, I'm not comfortable and I'm not happy with that or satisfied at all," Ian Sullivan, whose 6-year-old daughter Veronica Moser-Sullivan was killed in the massacre, tells Colorado's 9News.
You can share this story on social media: