Average number of mass shootings per year in US has tripled - AG Holder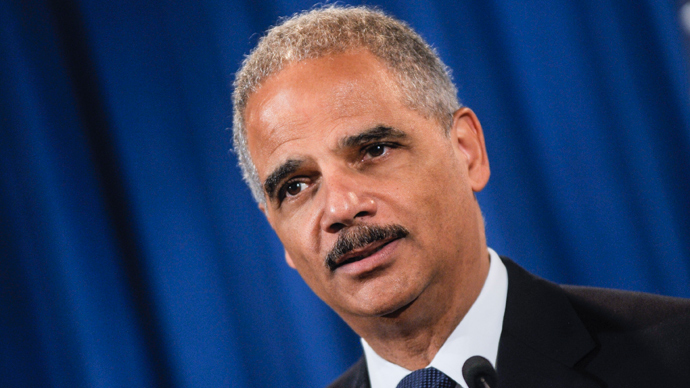 The average number of mass shootings in the US has tripled in recent years, US Attorney General Eric Holder said at an annual conference of police chiefs on Monday.
The yearly average of mass shootings has tripled from an average of five per year between the years of 2000 and 2008, the attorney general said. At least 12 mass shootings have taken place in 2013.

Holder's remarks at the annual meeting of the International Association of Chiefs of Police (IACP) came the same morning as yet another mass shooting occurrence - this time at a middle school in Sparks, Nevada, where at least two were shot dead early Monday.

The last mass shooting event involving a school occurred in June in Santa Monica, California, when 23-year-old John Zawahri set fire to a home and killed five people near and on the campus of Santa Monica College. Zawahri was killed while exchanging gunfire with police at the school's library.

From 2009 to 2012, 404 people were shot and 207 killed, according to the US Department of Justice. From 2000 to 2008, 324 people were shot and 145 were killed.

In the past ten years, the Justice Department has assisted in the training of 50,000 front-line officers, over 7,000 on-scene commanders, and more than 3,000 local, state, and federal agency heads on response tactics during active shooting incidents, Holder touted.

Despite the success, Holder cited instances like the Navy Yard shooting in September as proof that new strategies are needed for active shooter situations.

"Although research methods and results vary, it's become clear that new strategies - and aggressive national response protocols - must be employed to stop shooters in their tracks," Holder said.

He alluded to further arming and training for all levels of officers to avoid deaths in fast-moving events like the Navy Yard incident, where despite a seven-minute response time - claimed by DC Chief of Police Cathy Lanier for her force - 12 were ultimately shot and killed.

"To save lives, the first officers to arrive must sometimes be the ones to directly engage an active shooter," Holder said. "That's why all law enforcement officers must have the best equipment and most up-to-date training to confront these situations. We owe these officers nothing less."

The FBI's Behavioral Threat Assessment Center works with all levels of law enforcement to assess those who could be potentially violent, Holder boasted, claiming hundreds of disrupted incidents by the center since 2011.

Though Holder spoke of ongoing improvement of coordination and success across law enforcement levels, he was chastised by IACP President Craig Steckler before the attorney general's speech.

Steckler said in his introduction of Holder that his group "profoundly disagrees" with the Justice Department opting not to challenge laws legalizing the sale of marijuana that states like Colorado have passed - or may pass, in the case of California.

"This decision by the US Department of Justice, in our view, will open the floodgates for those who want to legalize marijuana throughout the country, those who have the resources to place initiatives and referendums on state ballots and those who've continued to profit from the sale of this unlawful drug," Steckler said to applause, CNN reported.