Obamacare to increase healthcare premiums in California up to 146 percent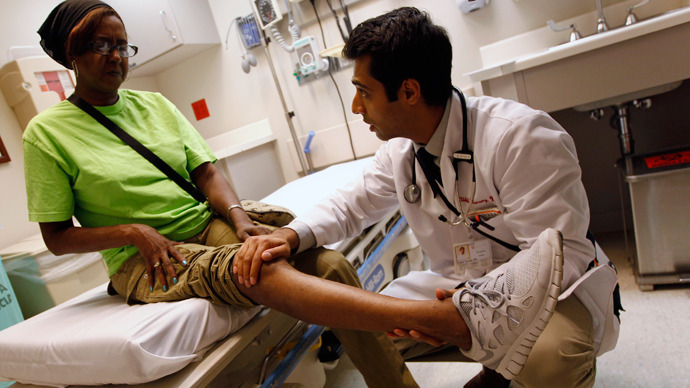 Obama's healthcare reform will increase individual-market premiums by as much as 146 percent in California, despite state officials' claim that it would lower them.
New data shows that premium rates would only decrease for small employer plans, but that the rates charged to individuals will increase, according to Peter Lee, the executive director of the Covered California, the state's new health insurance exchange.
State officials last week boasted that its version of Obamacare would serve as a "home run for consumers in every region of California," Lee explained. But the numbers generate a different narrative – one that depicts the flaws of the Affordable Care Act.
Due to its overwhelming number of regulations and mandates, Obamacare may increase the cost of health insurance for those who purchase it on their own, argues Forbes contributor Avik Roy. A 25-year-old non-smoking male, for example, is given only the catastrophic healthcare plan as the cheapest option. This Covered California plan has monthly premiums averaging $184. The second-cheapest plan, called the "bronze" plan, costs $205 a month.
In comparison, the median cost of the five cheapest healthcare plans for the same individual was $92 per month in 2013. For the typical 25-year-old Californian male buying his own insurance, premiums will be 100 to 123 percent more expensive when Obamacare is fully implemented, Lee told Forbes.
Californians over the age of 30 do not have the option to acquire the cheapest plan, and must instead purchase the "bronze" or more expensive packages. A non-smoking 40-year-old on the "bronze" plan will on average be required to pay $261 a month.  
Overall, individual-market premiums would increase by 64-146 percent, and an average of 116 percent.
The numbers starkly contradict the statements made by state officials and President Obama himself. Earlier this month, the president said that "whenever insurance premiums go up, you're being told it's because of Obamacare – even though there's no evidence that that's the case."
Economist Paul Krugman, a New York Times columnist, on Monday published an op-ed in which he insisted that premiums in the Golden State would decline in 2014.
"Well, the California bids are in — that is, insurers have submitted the prices at which they are willing to offer coverage on the state's newly created Obamacare exchange," he wrote in the Times. "And the prices, it turns out, are surprisingly low. A handful of healthy people may find themselves paying more for coverage, but it looks as if Obamacare's first year in California is going to be an overwhelmingly positive experience."
The Covered California exchange data contradicts the statements made by Obamacare supporters who believe premiums will not increase. In a press release from last week, Covered California wrote that "it is difficult to make a direct comparison of these rates to existing premiums in the commercial individual market."
But if the analysis made by Lee and Forbes author Avik Roy are true, then healthy Californians obtaining their own health insurance could see heightened costs, especially in the San Francisco Bay Area, San Diego and Orange counties.