Colin Powell denies allegations of an affair following email hacks by 'Guccifer'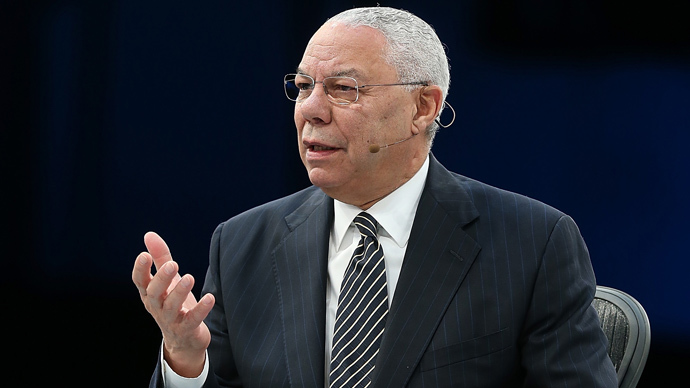 Personal email exchanges posted by the notorious hacker known as "Guccifer" between Colin Powell and a Romanian member of the European Parliament has prompted the former secretary of state to publicly deny any allegations of an affair.
Four months after Guccifer first broke into the retired general's AOL account, the hacker took control of another retired general's Facebook account, and posted a message on Powell's Facebook wall with a link to 10 emails along with a variety of photos stored on Google Drive.

The messages involved correspondence between Powell, 76, who served as president George W. Bush's secretary of state from 2001 to 2005, and Corina Cretu, 45, formerly an assistant to the president of Romania.

Powell issued a statement to The Smoking Gun following an attempt to contact him regarding the 2010 and 2011 email exchanges with Cretu. According to Powell the two met while he served as secretary of state as they both "occasionally attended the same diplomatic and international meetings."

Following his departure from the state department in 2005 Powell states that the two kept in touch.

"Over time the emails became of a very personal nature, but did not result in an affair. Those type of emails ended a few years ago. There was no affair then and there is not one now," wrote Powell.

Some of the personal correspondence include references by Cretu of Powell being the love of her life insinuates a decade-long relationship according to The Smoking Gun.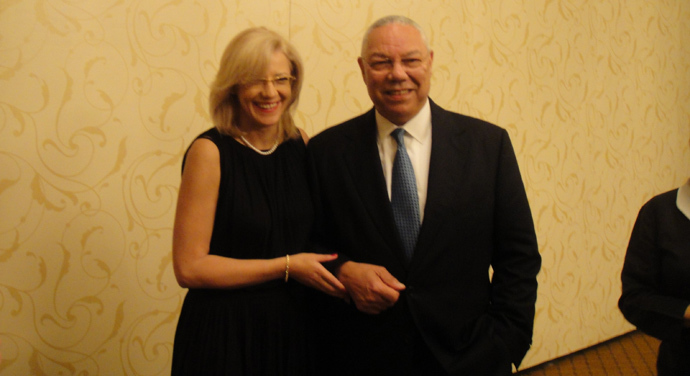 "In light of what was happening it seems obvious to ask Ms Cretu to delete emails," Powell wrote to TSG.

"She sent photos on a regular basis. Lots of family photos with her nieces, who she adores, family reunions, formal business sessions, her wedding and some bathing suit photos ... Never anything improper," he added. According to Powell he and Cretu have only seen each other "once or twice" over the past eight years.

Guccifer has previously targeted other high profile public officials. Within the last eight months the hacker has managed to break into the online accounts of former Clinton and Bush administration officials, as well as former FBI agents, defense contractors, Bush family members and other notable figures including journalist Carl Bernstein and author Candace Bushnell.

In June, Guccifer compromised the Facebook account and possibly a personal email account belonging to Neile Miller, an Obama administration official and former acting administrator of the National Nuclear Security Administration (NNSA), the agency responsible for maintaining America's nuclear stockpile and tracking down "loose nukes" worldwide.

In May, the hacker breached the personal email accounts of Christopher Kojm, who heads the National Intelligence Council, along with Joshua Gotbaum, director of the Pension Benefit Guaranty Corporation.

In a lengthy note sent to TSG accompanying screen grabs of Kojm's email account Guccifer referred to Obama as "The Black Angel," and taunted the US secret service which has been on the hunt to capture the elusive hacker. That note concluded "Good night America where ever you are."
Guccifer has reached out to a variety of outlets with information extracted from these public officials in the past. In March, RT received multiple emails the hacker had obtained from Sidney Blumenthal, a 64-year-old journalist who formerly worked as an assistant to then-president Bill Clinton. The memos pertained to sensitive information that had been sent to former US secretary of state Hillary Clinton in the wake of last year's terrorist attack in Benghazi, Libya.

Only several days later RT and other outlets received a second batch of sensitive documents from Blumenthal's compromised email account, this time with correspondence to Clinton detailing a January 2013 Algerian hostage crisis in which three Americans died, as well as information on the inner workings of now-deposed Egyptian president Mohamed Morsi's administration.

In all instances Guccifer seems to have gone to great lengths to cover his tracks and prevent federal investigators from catching up with him. His previous tactics have included using compromised email accounts to disseminate leaked information to the media, as well as other standard tools of the trade, including proxies and IP spoofing.