​Gun sales are up as support withers for tougher firearm restrictions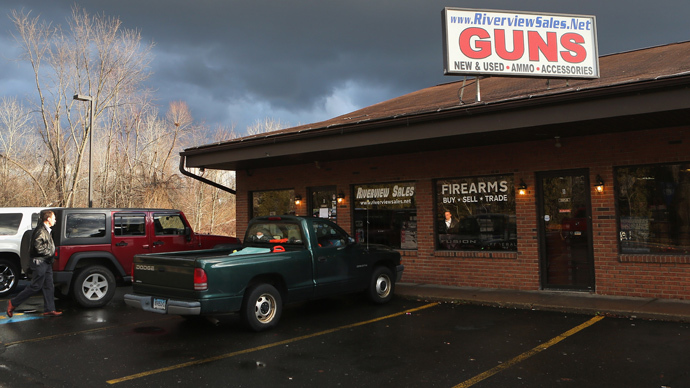 Gun sales, profits, and share prices among top firearm manufacturers have rebounded since the mass shooting of December 2012 in Newtown, CT, exceeding levels seen before the tragic incident that left 26 dead at Sandy Hook Elementary School.
A financial disclosure Monday by the Freedom Group - a collection of gun manufacturers also known as Remington Outdoor Co., which makes the Bushmaster assault rifle used in Newtown - reported that its sales in the past year have risen as much as 36 percent.

The company predicts 2013 sales will total at least US$1.25 billion; 2012 sales checked in at $931.9 million. Freedom Group also expects a 50 percent profit increase from 2012.
The company's parent organization, Cerberus Capital Management, put Freedom Group up for sale shortly after the Newtown massacre, expecting a wave a tough gun laws to pass nationwide. The Wall Street Journal reports a deal is near to bring in a minority investor for the financially healthy company, which is reportedly worth US $1.2 billion.
"It is apparent," said the company after the shooting, "that the Sandy Hook tragedy was a watershed event that has raised the national debate on gun control to an unprecedented level."
Yet the assumption that tougher restrictions would pass after Sandy Hook led to only a momentary dip in share prices for Freedom Group, as some investors dumped its stock. Other major gun makers also rebounded in short order.
Smith & Wesson share value dipped from $10 to $7.79 after Newtown, but recovered and now stands at $12.30.
Sturm, Ruger & Co. shares have doubled to $80, and its 2013 third-quarter earnings and sales have shot up compared to 2012.
Ironically, observers attribute the spike in financial indicators for manufacturers to the very widespread belief that frightened the likes of Freedom Group. That is, that gun laws would stiffen in the US.
During the first quarter of 2013, the FBI reported a 46 percent jump in background checks for gun purchases.
"Consumer concern over more restrictive governmental regulation on the federal, state and local levels has contributed to this increase in demand," Freedom Group said in its recent third-quarter report.
The public impetus for stronger gun laws has weakened since the mass shooting, according to recent polling.
A new HuffPost/YouGov poll shows that support for tougher measures has dropped from the highs seen shortly after Newtown. The survey shows that 49 percent of respondents want stronger controls as opposed to 50 percent just after the incident and 60 percent in January 2013. However, the current number is still higher than the 44 percent in support for stronger laws before Dec. 14, 2012.
Only 22 percent currently say that laws should be loosened, and 23 percent want no change in the set policy.
Polls recently released by CNN and Gallup also show a decline in support for tougher laws.
Americans are still strongly behind strengthening background checks for gun buyers, with 77 percent in support, according to the HuffPost/YouGov poll. Only 16 percent are opposed.
As for banning high-capacity magazines for semi-automatic weapons, 48 percent are in support while 38 percent are opposed.
The poll also showed some relatively common misconceptions about gun laws and what has or has not occurred since the Newtown shooting.
The survey reported that 31 percent of respondents think anyone who buys a firearm at a gun show is already required to be subject to a background check, which is not universally true in the US. Self-identified Democrats were most likely to report that assumption.
Seventeen percent of Americans think Congress has passed a new gun law since the shooting, which is also not true. Republicans were most likely to believe this was the case.
You can share this story on social media: