Sandy Hook slaying video game doubles as anti-gun promo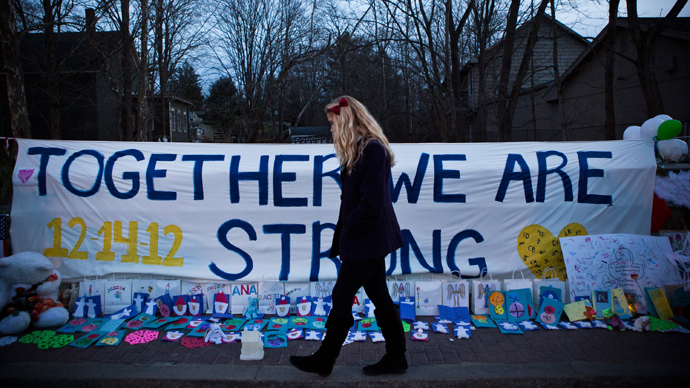 A grisly online video game that allows players to reenact the Sandy Hook Elementary School shooting drew heated criticism Tuesday from relatives of one of the victims.
The game, entitled 'The Slaying of Sandy Hook Elementary School', allows players to retrace the footsteps of shooter Adam Lanza as he picks up a Glock handgun and fires bullets at the body of his mother asleep on her bed.

After being encouraged by the game to "shoot again" and "just make sure" and "one last time," players are instructed to retrieve an AR-15 semi-automatic rifle and proceed to the Sandy Hook Elementary School.

From here, players can engage in a shooting spree, just like the one that the residents of Newtown, Connecticut, experienced on the morning of December 14, 2013.

Family members of Victoria Soto, a teacher who was killed in the shooting, condemned the game on Twitter, according to the Hartford Courant.

"Please tell us how playing a game that recreates how Vicki died would be beneficial? Please tell us," the relatives commented in a tweet to the game's creator, Ryan Jake Lambourn.

In an audio message in the game's credits, Lambourn, who admits he "rarely follows the news," said "Here we are nearly a year after the Sandy Hook shootings in which 26 people were killed and absolutely nothing positive has come out of it."

Lambourn, a native of Houston who now resides in Australia, was also the creator of the video game, entitled 'VTech Ramage,' which allowed gamers to reenact the school shooting that took place on April 16, 2007, on the campus of Virginia Polytechnic Institute and State University.

South Korean national Seung-Hui Cho killed 32 people and wounded 17, giving the 23-year-old man - said to be suffering from an extreme anxiety disorder - the dark distinction of carrying out the deadliest shooting in US history.

The Sandy Hook simulation also drew a rebuke from Senator Chris Murphy (D-CT), an anti-gun advocate.

"To make a game about the murder of 20 children and their six teachers is absolutely sickening," Murphy said in a statement, as quoted by the Courant. "I hope the very disturbed person who could think of something like this sees the cruelty of what he's done and stops it."

Strangely, players are encouraged in the game's credits to contact their state governor and representatives to push for gun-control legislation, yet no reference is made to curbing video game violence, which has already been linked to aggressive behavior.
In June 2012, Teena Willoughby of Brock University in Canada published a study that examined 1,492 children from the ages of 8-9 and 17-18 who played violent video games on a regular basis. The research found that those who played violent video games over a long period of time demonstrated an increase in aggressive behavior.

"Sustained violent video game play was significantly related to steeper increases in adolescents' trajectory of aggressive behavior over time," the abstract of Willoughby's study stated. "Our findings, and the fact that many adolescents play video games for several hours every day, underscore the need for a greater understanding of the long-term relation between violent video games and aggression, as well as the specific game characteristics."

You can share this story on social media: