Gun instead of TV: Washingtonian receives not quite what he ordered on the Internet
Published time: 8 Aug, 2012 19:37
Edited time: 8 Aug, 2012 23:37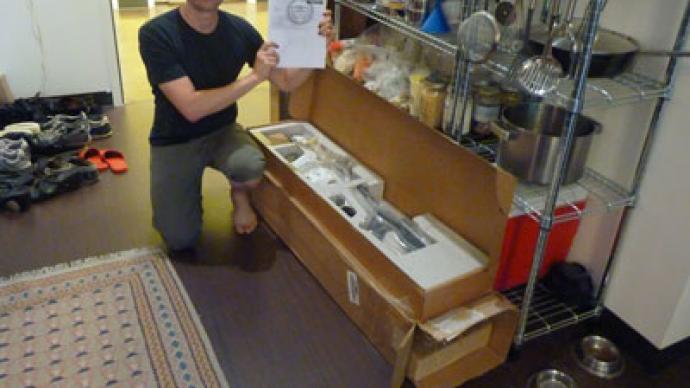 While guns may be easy to come by in the US, one man did not even have to try. A Washington DC resident was shocked to find a high-caliber, semi-automatic assault rifle on his doorstep, when he was expecting a brand new television.
Seth Horvitz had ordered a large, flat-planel TV from Amazon for him and his pregnant wife to enjoy. After the oddly shaped package arrived, the young man was shocked to discover a $2,132 Sig Sauer SIG716 patrol rifle. Its manufacturer calls it "the rifle of choice when you require the power of a large caliber carbine."
"Items get mixed up sometimes, but never on this scale," Horvitz told the DCist. "I didn't think I was getting into a gun/electronics dealer."
The law in Washington, DC prohibits the possession or transportation of firearms into or through the District, regardless of whether or not the owner has a permit or license to carry one. Finding himself unable to carry the rifle to the nearest post office to return to its sender, Horvitz called the Metropolitan Police Department, which immediately dispatched two officers.
"Police were a little confused at first, they've never seen anything quite like it," Horvitz told Fox 5 News. "They just took my information and then said we'll handle this weapon because it's illegal to keep here. It's illegal to transport in a car, so it can't be returned."
The mix-up comes at a time when US gun laws are being heavily disputed after two separate shootings this summer. James Holmes shot 70 people in a movie theater in Colorado last month, killing 12. Wade Michael Page fatally gunned down 6 people worshipping at a Sikh temple in Wisconsin on Sunday.
The fact that a semi-automatic assault rifle ended up on the doorstep of a man who didn't order it is disconcerting to police officers in the District – especially since it is illegal for gun providers to mail a firearm to the address of someone without a Federal Firearms License.
"Clearly, it's a dangerous situation in America when assault weapons are so prevalent and can so easily end up in the wrong hands, especially given that the rifle was left on the doorstep," said Caroline Brewer, spokesperson for the Brady Campaign to Prevent Gun Violence. "Thank goodness, Mr. Horvitz and his wife alerted the Metropolitan police right away. This mishap could have led to another tragedy."