National guardsman gave Florida Nazi group combat trainings to prepare for 'race war'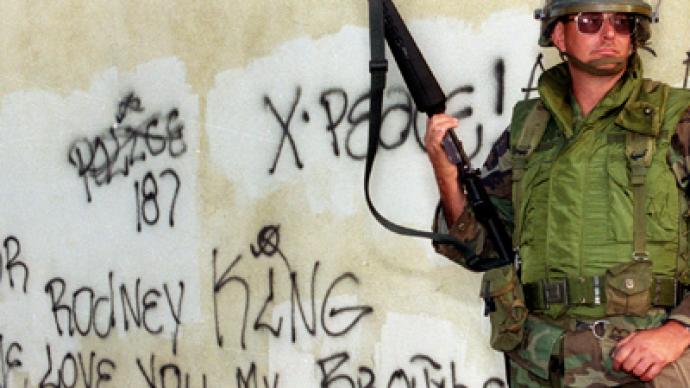 A former US National Guardsman trained a white supremacist group on AK-47 assault rifle and fighting techniques, to help them prepare for an expected race war. The guardsman eventually became a white supremacist group member himself.
The Missouri guardsman, identified as Spc. Ryan Riley by the St. Louis-Post Dispatch, provided military training for the American Front, a "militia-styled, anti-Semitic, white supremacist, skinhead organization (that) is a known domestic terrorist organization," according to court documents.The 28-year-old Riley traveled to Florida and provided the racist group with military training in July 2011 using a pistol, an assault rifle and 200 rounds of ammo.The leader of the white supremacist group, Marcus Faella, also provided 12 AK-47-style rifles for members of the group to use. After the training, the guardsman himself was initiated into the hate group.Riley told court investigators that while serving the Army in Iraq in 2008, he "became interested in protecting the White race."Eleven members of the American Front were also arrested in May for planning acts of violence and preparing for "an inevitable race war." They were subsequently charged with hate crimes, conspiracy and paramilitary training in furtherance of a civil disorder.The guardsman is cooperating with authorities investigating his ties to the white supremacist group.Investigators are looking into e-mail and text message correspondence Riley had with white supremacists, as well as looking at blog posts he wrote for skinhead websites.The man also exchanged messages with the leader of the American Front, who wanted the guardsman to provide the group with firearms, survival and medical training.Court documents show that Faella was also trying to make ricin, a highly poisonous powder that can kill a human with just a few grains of salt.While Riley claims to have had second thoughts about his involvement with the white supremacist group after the weekend of military training, he continued to answer the group's questions regarding the use of firearms. He also corresponded with the white supremacist groups Hammerskins, Volksfront and Blood & Honor.The National Guardsman's involvement with white supremacy groups is particularly alarming after a US Army veteran with ties to white supremacists killed six people in a shooting at a Sikh temple last week."Outside every major military installation, you will have at lease two or three active neo-Nazi organizations actively trying to recruit on-duty personnel," a former white power skinhead in the US Marines told CNN.The military is investigating extremist activity within its branches, which Riley and gunman Wade Michael Page have brought into the media spotlight.