Senator outs Obama over Twitter as "stupid"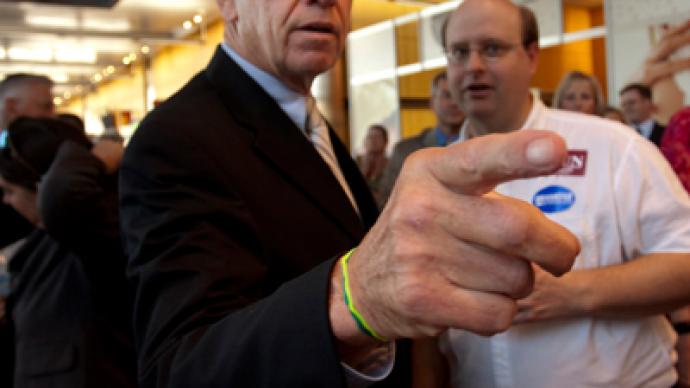 A US Senator with over 30 years of experience erupted over Twitter this weekend, taking to the microblogging site to express his disdain for President Barack Obama by calling him "stupid."
Chuck Grassley, a Republican Senator from the state of Iowa, crammed a condescending attack at the commander-in-chief into only 139 characters over the weekend, calling out Obama in a Saturday morning tweet that attempted to tackle the president's comments on the Supreme Court's handling of his health care plan. Earlier in the week, President Obama addressed the country's current health care law debacle that had resulted in his highly touted trademark legislation making it all the way to the Supreme Court. In an attack of his own, Obama critiqued "judicial activism" by way of the "unelected" judges on the Supreme Court, which in turn had many of his conservative opponents racing towards a rebuttal. So far only Senator Grassley, however, has resorted to taking the whole name-calling route.Responding to the president's comments from last week, Senator Grassley told his Twitter followers over the weekend that the citizens that Obama was elected to represent have a bit more know-how than their own leader."Constituents askd why i am not outraged at PresO attack on supreme court independence. Bcause Am ppl r not stupid as this x prof of con law," Grassley tweeted on Saturday.Critics of the Senator were quick to condemn him for such a sophomoric move as making fun of the president on the Internet, with some responses penned over the Web attacking Grassley as a "poor baby," "a disgrace to the Senate" and, as one follower responded, "despicable.""Congress's popularity is at historic lows. Note to @ChuckGrassley, calling @BarackObama 'stupid' doesn't help," wrote another microblogger.Perhaps the most damning response of all, though, came from an Obama insider. Political advisor David Axelrod took to Twitter to take a jab at Grassley's grade-school grammar, writing the representative: "Heads up, Sen. Grassley. I think a 6-year-old hijacked your account and is sending out foolish Tweets just to embarrass you!"
You can share this story on social media: