​Georgia man who shot wandering Alzheimer's patient will not face charges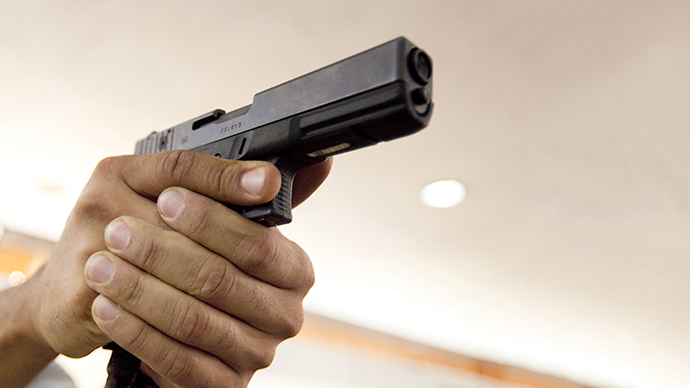 A man who shot and killed an elderly Alzheimer's patient in rural Georgia after mistaking him for a prowler will not face criminal charges, a local prosecutor said. The state is also one of several considering broadening its 'stand your ground' law.
In late November, Ronald Westbrook, 72, wandered from his home around 01:00 EST. Hours later, he randomly approached the nearby home of the fiancé off Joe Hendrix, 35. Westbrook repeatedly knocked on the door and rang the doorbell of Chickamauga, Georgia house.
As his fiancée called 911, Hendrix called at someone he saw in silhouette who did not answer, he told investigators. Westbrook was carrying what Hendrix described as a cylindrical object that turned out to be a flashlight. Once Hendrix determined the man walking toward him would not stop despite repeated requests, he fired three or four times, fatally wounding Westbrook.
District Attorney Herbert "Buzz" Franklin said since it could not be proven that Hendrix was not acting in self-defense, he would not press criminal charges.
"It's a difficult burden to meet," Franklin said, according to AP. "You have to be able to prove what was in their mind at the time of the act. All the circumstances here could lead one to reasonably believe that Mr. Hendrix was acting in self-defense."
According to police, Westbrook, who his family says had been suffering from Alzheimer's disease for two years, had been walking in the near-20 degree weather for four hours with his dog, wearing only a light coat and a straw hat, before approaching the home of Hendrix's fiance, possibly drawn by the house's porch light. Westbrook was clutching a piece of mail when he was found by police.
"I'm a little upset," said Deanne Westbrook, the slain man's widow. "...I really wanted to see it go before a grand jury, and then maybe before a jury. But they tell me there's not enough evidence for that."
Franklin said he understood the Westbrook family's frustration, but he stood by his decision.
"What little satisfaction there may be in that, I might be able to take some small comfort in that. But the Westbrook family lost their father, husband, and there's nothing we can do to change any of that," he said.
Lee David, attorney for Hendrix, said his client appreciated the care shown by investigators.
"Mr. Hendrix fully acknowledges the loss to Westbrook family, and his thoughts and prayers are with them," Davis said in a statement.
The Nov. 27 shooting was preceded by a possible earlier encounter with Mr. Westbrook.
On Nov. 19, Hendrix's fiancée called 911 to report a man carrying a piece of paper ringing her doorbell just before midnight and asking for someone she did not recognize, according to Hendrix's attorney and police reports obtained by AP.
She had also called Hendrix, but by the time he and law enforcement arrived, the man was gone. Worried, Hendrix brought his gun to her home from his nearby home in Chattanooga, Tennessee.
About a week later, Westbrook slipped out of his home without his wife noticing. His widow said he had a difficult time remembering where he lived or identifying family members.
A Chickamauga resident called 911 around 02:30 EST saying a man was in her driveway shining a flashlight into a car. The sheriff's deputy who responded to the call later found a man identified as Westbrook walking away from an area mailbox with a flashlight and several pieces of mail, according to authorities.
Westbrook seemed flustered and upset that he was being questioned by the officer. He told the deputy he lived up the driveway and walked away. Then around 04:00, he approached the house of Hendrix's fiancé.
Investigators believed Georgia's 'stand your ground' law could have applied should charges have been filed against Hendrix. The state's 2006 law says that a person "has no duty to retreat" and has the right to "stand his or her ground," including the use of deadly force pertaining to self-defense of one's home or property.
Georgia is actually considering expanding the law, as the House is considering a provision that would allow individuals to invoke the defense for shootings that occur on public transportation.
In early November, civil rights leader Jesse Jackson's Rainbow PUSH coalition filed a lawsuit against Georgia for what it alleges are uneven interpretations of the 'stand your ground' law.
You can share this story on social media: