George Zimmerman sues NBC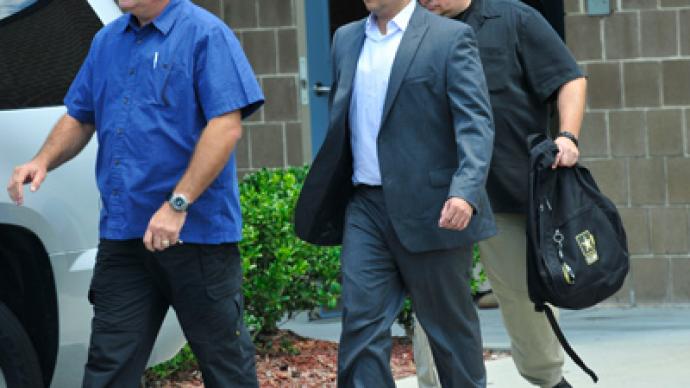 The killer of Florida teenager Trayvon Martin has sued NBC because he says the news station edited a phone conversation to portray him as racist.
George Zimmerman is seeking an undisclosed compensation from the network because he says an edited version of a phone call they aired caused emotional distress and made him fear for his life."NBC saw the death of Trayvon Martin not as a tragedy but as an opportunity to increase ratings, and so set about to create a myth that George Zimmerman was a racist and predatory villain," the lawsuit claims, calling their tactics as "the oldest form of yellow journalism."On February 26, 2011, Zimmerman, then a neighborhood watch captain, dialed 911 to alert the police of a suspicion person he noticed while on patrol. Zimmerman made repeated calls to the police while he conducted surveillance, despite authorities asking him to do otherwise. According to Zimmerman, an altercation with the person occurred after one of those conversations with the dispatcher and he was forced to shoot the subject in self-defense. The victim, an unarmed 17-year-old named Trayvon Martin, was pronounced dead that night. During the phone call, the 911 dispatcher asked if Martin was "black, white or Hispanic." Zimmerman responded "he looks black," but says NBC reported that out of context.In the edited audio broadcast by NBC, Zimmerman is recorded as saying bluntly, "This guy looks like he's up to no good. He looks black.""Because of NBC's deceptive and exploitative manipulations, the public wrongly believes that Zimmerman 'us(ed) a racial epithet' while describing Martin during the call to the dispatcher on that fateful night," the suit continues.Attorneys for Zimmerman seek "damages in excess of the jurisdictional limit" in Seminole County Circuit Court in Florida against the NBC network as well as two reporters who used the clip, Lilia Luciano and Ron Allen. NBC conducted an investigation into the edit themself earlier this year and concluded that the altering was not deliberate. Despite that ruling, though, Ms. Luciano and a producer have both resigned from their positions with the network. NBC has responded to the suit, saying, "We strongly disagree with accusations made in the complaint. There was no intent to portray Mr. Zimmerman unfairly. We intend to vigorously defend our position in court.""You cannot look at the way that tape was crafted and aired, and not believe that there was intent there," Zimmerman's lawyer Mark O'Mara was quoted as saying this week by the Chicago Tribune.