Zimmerman granted bail in Florida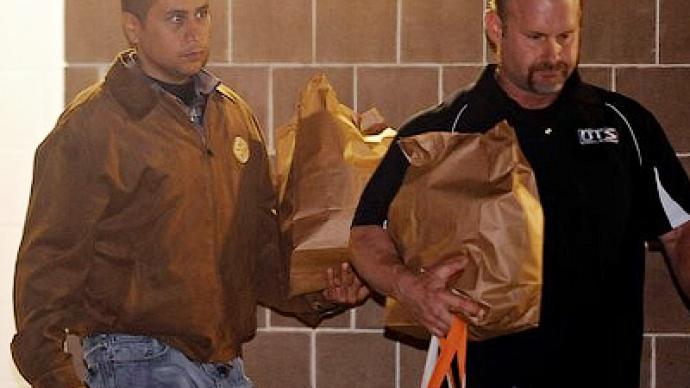 George Zimmerman was released around midnight Sunday from a Florida jail on $150,000 bail. Zimmerman fatally shot unarmed teenager Trayvon Martin – a killing that sparked nationwide protests and debate over self-defense laws in US.
The confessed killer now awaits his second-degree murder trial and insists that the shooting was in self defense.County sheriff's vehicles blocked access to the intake building parking lot where Zimmerman was being released. He walked out of the John E. Polk Correctional Facility in Sanford, Florida, wearing a brown jacket and blue jeans and carrying a brown paper bag in his arms, alongside another man. He got into the back of a white BMW.No questions were shouted at Zimmerman as he emerged, and did not address the half dozen reporters and photographers who were camped outside the Sanford jail.His ultimate destination is being kept secret for his safety and it could be outside Florida.Zimmerman's attorney, Mark O'Mara, has said there are several options for where he could go. He is obliged to wear an electronic monitoring device.The accused man cannot have any guns, drugs or alcohol and must observe a 7pm-6am curfew. He has also surrendered his passport.Prosecutors had asked that Zimmerman remain in jail without bond until trial, or that bail be set at $1 million.However on Friday, Seminole County Judge Kenneth R. Lester Jr. set the bond at $150, 000 and said Zimmerman had to put up 10 per cent, or $15,000, to make bail.Before he testified in the courthouse in Sanford, Zimmerman apologized to Trayvon Martin's family for shooting the unarmed, 17-year-old."I wanted to say I am sorry for the loss of your son," he said. "I thought he was a little bit younger than I was, and I did not know if he was armed or not."It is a case with broad implications for race relations. On February 26, Trayvon Martin was shot and killed by the neighborhood watch volunteer on patrol in a Sanford, Florida, gated community. The teenager, wearing a hoodie, was walking to his father's apartment from a trip to the store.Zimmerman, a 28-year-old clerk, half white and half Latino, considered the black youth suspicious and called 911. He told the dispatcher he was following Martin, but was informed, "We don't need you to do that." He ignored this and pursued Martin anyway. A fight broke out, but investigators have not determined who started it.Zimmerman claims Martin attacked him. He also insists he shot the youth in self-defense, citing Florida's Stand Your Ground (SYG) law, which gives broad legal protection to anyone who says they used deadly force because they feared death or great bodily harm.He was not charged for over six weeks after the accident. The delay sparked national protests, with tens of thousands taking to the streets to demand Zimmerman's arrest and trial, amid accusations of racial discrimination at the highest levels.A nationwide debate also has arisen over gun control and the controversial SYG legislation.
You can share this story on social media: