Guns drawn, punches thrown: Fight for gas in New York gets ugly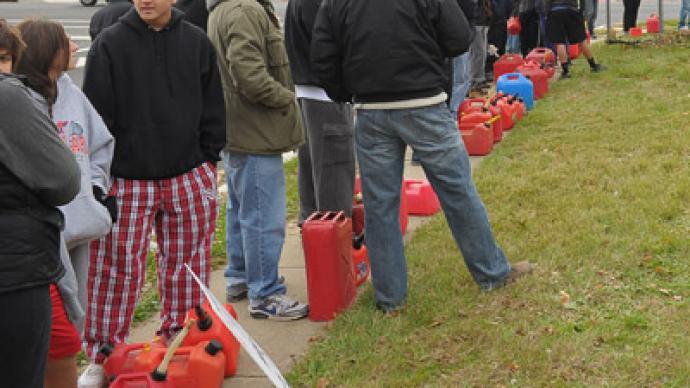 After Hurricane Sandy left parts of the East Coast running on empty, New Yorkers are in a desperate fight to fill their gas tanks. Waiting in mile-long lines with hundreds of vehicles, some have even taken to violence.
A motorist in Queens, NY was unable to hold back his frustration with the line at a gas station Friday. Sean Bailey, 35, cut in line and pulled out a pistol, threatening another motorist who had complained. The man was arrested on charges of menacing and criminal possession of a weapon and now faces up to 15 years in prison.Other motorists throughout hurricane affected areas in New York and New Jersey exchanged hostile words, shoved each other and occasionally threw punches. One gas station in Newark, NJ hosted a line that stretched for two miles. Cars and people holding empty red gas canisters waited for hours to fill up."It is crazy out here – people scrambling everywhere, cutting in front of people," Betty Bethea, 59, told NBC News after waiting in line for three hours with her kids and empty gas canisters. Cutting the line became such a problem that some stations placed flares at the edge of the line to prevent cars from crossing it.The demand for gas was so high in New York state that Mayor Michael Spano of Yonkers signed an executive order rationing gas to 10 gallons per customer.Power outages and flooding caused by the devastating storm have forced numerous gas stations to close and made it difficult, sometimes impossible, for fuel from refineries to be transported to the stations. Millions of gallons of gasoline are also trapped in storage tanks, pipelines and tankers that can't be unloaded in the wake of the hurricane's damage.Stations that retained power and supplied gas were busier than ever, with customers lining up before sunrise to fill up their tanks."I've been pumping gas for 36 hours – I pumped 1,500 gallons," Abhishek Soni, the owner of an Exxon in Montclair, NJ, told the New York Times. "My nose, my mouth is bleeding from the fumes. The fighting just makes it worse."Soni's station was the scene of a heated dispute Wednesday that forced the owner to call the police and shut off the pumps for 45 minutes to restore sanity.Taxi drivers are perhaps among the hardest hit, financially. New York cab drivers often pay to lease their vehicles. In order to make a profit, the drivers need to make more money than the cost of the lease and gas prices.Harum Prince, a New York cabdriver, told the Associated Press that he pays $130 plus gas to lease his cab until 5 p.m. each day. Without being able to fill his tank at a gas station, he would have no way to make that money back."I don't blame anybody," he said. "God, he knows why he brought this storm."In order to help restore sanity, the federal and local governments did away with some street tolls and sent 250,000 gallons of gas to New York through the Department of Defense. But utility companies might not be able to restore electricity until late next week, thereby keeping the gas supply on the low end for several more days."Everywhere you go, it's either a riot or there's no gas," Jason Brown, 25, of Queens, told the Times.
You can share this story on social media: