Americans protest fracking as Obama cheers for it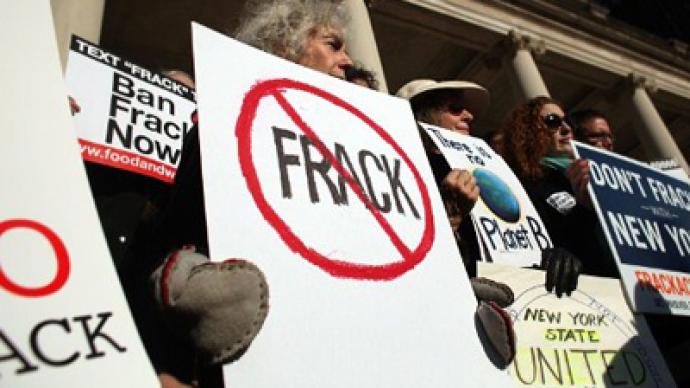 It took years, but opponents of fracking, the controversial process of hydraulic fracturing for the extraction of natural gas, are finally getting their point across. President Barack Obama, however, still isn't convinced of the cons.
What began as a grass roots campaign to examine the dangers of high-volume horizontal hydraulic fracturing has over the last few years spawned a massive movement of critics who are committing countless hours towards find a way to abolish fracking. When American energy companies drill deep into the Earth's surface to free up natural gas, groups are able to mine a natural resource without dangerous offshore production facilities or by cutting deals with foreign nations. The trade-off to many, however, is simply not worth it.
Yes, fracking can provide massive amounts of methane gas to be used domestically; but it also produces millions of gallons of wastewater that can contain elements that are known carcinogens. Despite fracking freeing up cancerous agents and releasing them into the environment, there are roughly 400,000 of these wells across America. As advocates against the excavation process raise questions regarding its safety and fight to free their cities and towns from these wells, opposition is growing, and fracking, for now, seems to be slowing.
In the Empire State, where fracking occurs in countless sites, Ithaca College biologist Sandra Steingraber tells Mother Jones that the movement is "the biggest since abolition and women's rights in New York." Ten miles west, Ann Furman of Concerned Citizens of Ulysses (CCU) in Ulysses, New York says that they got 1,500 of 3,000 registered voters to sign off against fracking in the town last year.
At Tuesday's State of the Union address, however, US President Barack Obama did not seem to see a problem with fracking.
As fossil fuels are used up at record speeds, Obama announced from Washington this week, "We have a supply of natural gas that can last America nearly 100 years, and my administration will take every possible action to safely develop this energy." According to the president, the fracking industry could create more than 600,000 jobs by the end of the decade and would have in place a clean alternative to oil processing. He proposed an "all-out, all-of-the-above" policy to tackle the country's resources on all fronts in the best way possible, but while he suggested that fracking was the be-all to end-all answer to America's energy woes, the reality is that rampant drilling could cause some serious repercussions.
In addition to adding carcinogens into the atmosphere, scientists earlier this month finally linked fracking to an outbreak of earthquakes in the state of Ohio. The Youngstown, OH region saw 11 small tremors in a matter of months after a year of drilling, prompting an investigation by specialists — and the results were far from favorable.
"This one year of pumping is a pulse that has been pushed into the ground, and it's going to be spreading out for at least a year," John Armbruster of Columbia University's Lamont-Doherty Earth Observatory tells the Associated Press.
Ray Beiersdorfer, a geology professor at Youngstown State University, adds to the Business Journal, "I wouldn't be surprised if it continued for a year or so."
Following a 5.8-magnitude earthquake that shook the East Coast from Washington on up last year, other experts supposed that the millions of gallons of waste water pumped into the Earth in fracking drills could have triggered the disaster. Before the quake last August, Braxton County West Virginia, only 160 miles from the epicenter, saw eight minor movements in 2010 alone. That site has also seen a slew of fracking operations in the several years before it.
Quakes or not, fracking opens up an opportunity for America to create jobs, but at what cost?
Activist Rita Yelda from Food & Water Watch tells Truthout, "We need to take a look at the risks before we look at dollar signs … we don't need another Love Canal." In Niagara Falls, NY outside of Buffalo, the energy industry is interested in opening up a fracking well. As Yelda recalls, however, Niagara Falls' Love Canal neighborhood made worldwide headlines in the 1970s. A failure to act on underground toxins on a residential development site there triggered an outbreak in cancers and other diseases. Eventually, the entire neighborhood was vacated and the Environmental Protection Agency ruled that Occidental Petroleum, the energy company held responsible for the disaster, had to fork over more than $100 million in restitutions after 800 citizens were relocated.
If the proposed fracking in Western New York isn't halted by group like the Concerned Citizens of Ulysses, an earthquake could strike the natural wonder of Niagara Falls — and that is only just one of the concerns. "If this fracking waste is not treated correctly, it could contaminate our water," Yelda adds to TreeHugger.com
A few hours across the state, others are already considering that.
Cooperstown, New York is known among sports fans as being the home of the National Baseball Hall of Fame and Museum. For beer enthusiasts, however, the small central New York town is also the headquarters for the Ommegang brewery. Officials there worry that rumors of fracking will not just impact the natural environment, but the economic one as well. While President Obama says increased operations could bring hundreds of thousands of jobs, the dangers that come with it could cause many to pack up and leave.
"If its water were to be contaminated, the brewery could be forced to move its business elsewhere," Ommegang stated in court papers from last year. "Its master brewer and quality control chemist agree that even if Brewery Ommegang wished to do so, it could not remove many of the toxic chemicals commonly used in hydrofracking, should they be released into the brewery's water supply." Ommegang spokesman Larry Bennett told The Daily Star that the only option would be "shutting down or moving" of fracking took off.
"Anything that would force a company to think about moving out of the region is a problem that we would need to deal with," Otsego County Chamber of Commerce President Rob Robinson responded.
In other towns, however, authorities are slow to see the big picture. Instead, advice coming all the way down from the Executive Branch of the United States suggests that fracking would only bring good news to America. With anti-fracking victories occurring in small town-after-small town thanks to advocacy groups that are taking to the streets and going door-to-door in old-fashioned grass roots campaigning, fracking might never come to fruition to the degree Obama has asked for. Regardless, this will surely be a fight against the current for opponents.
You can share this story on social media: