Fox News flubs on Obama pirate picture
Published time: 21 Sep, 2012 15:26
Edited time: 21 Sep, 2012 19:26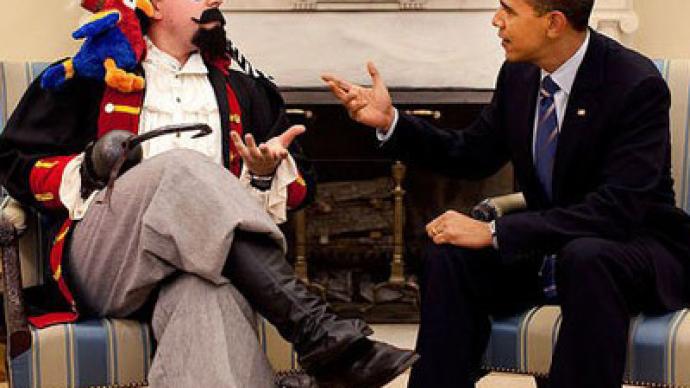 Fact checkers at Fox News might be forced to walk the plank after they tried to repeatedly ridicule US President Barack Obama this week over a tweet he sent without the network doing their necessary homework.
To commemorate International Talk Like a Pirate Day, the official Obama Twitter account sent subscribers a photograph on Wednesday of the commander-in-chief engaged in what looked like deep discussion with a man costumed in stereotypical pirate garb — eye patch and all — from the confines of the Oval Office.
"Arrr you in?" the president asked in the caption that accompanied the image. Twitter users retweeted the post more than 3,600 times in the hours after, and Fox was quick to take notice and call out the president for what they assumed was putting booty business above politics.
"Arrrgh You Kidding?" a graphic used by Fox asked.
Brian Kilmeade, a commentator with the network, attacked the president for presumably making time for pirates while telling Israel Prime Minister Benjamin Netanyahu only days earlier that he'd be too busy for a sit down between the two this week.
"The White House doesn't have the time to meet with the prime minister of Israel, but this pirate got a sit-down in the Oval Office yesterday," Kilmeade said.
As you might have guessed, no, the president wasn't really spending his afternoon discussing politics with pirates. In fact, the image itself was actually taken years earlier and used in a slideshow presented during the White House Correspondents Association dinner in 2009. Fox News took the bait, however, and berated the president no fewer than three times on Thursday for what they thought was putting fun and games above foreign diplomacy.
Later during their broadcast day, talking head Steve Doocy said, "Here's a quick look at what President Obama is up to, making sure he didn't forget to mark International Talk Like a Pirate Day." Later, Doocy opined that while Obama must have time to talk politics with high seas bandits, Netanyahu isn't so fortunate.
"He's getting the Clint Eastwood treatment — the empty chair," Doocy said.
Analyst Peter Johnson Jr. later weighed in as well, calling the president "Broadway Barack Obama," and adding, "it seems like foreign policy is taking a back seat."
The Drudge Report news site attempted to attack the president over the photo too, putting the image at the top of their homepage Thursday morning over the banner "BUT NO TIME FOR NETANYAHU…"
Several Twitter accounts associated with Fox, including the official Fox & Friends stream and Doocy's personal account, later acknowledged their error.