Florida woman forced to use city utilities instead of private solar panels, rainwater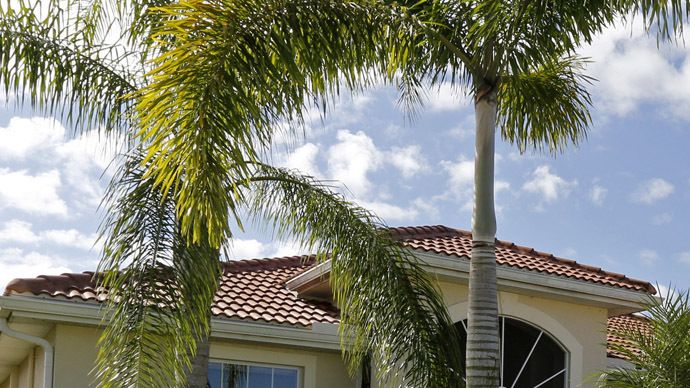 A Cape Coral, Florida woman living "off the grid" was ordered last week by a magistrate to hook up to utilities to comply with city codes or risk eviction from her home.
Special Magistrate Harold S. Eskin ruled Thursday that Robin Speronis violated city codes by refusing to connect to the Cape Coral's water system. Eskin ordered Speronis to pay for water service, adding that her sewer access would be capped until she did, The News-Press reported.
"I am in compliance," Speronis told the News-Press. "I'm in compliance of living … you may have to hook-up, but you don't have to use it. Well, what's the point?"
In addition, her alternative source of energy must be approved by the city, Eskin ruled. The city contends that using rainwater and solar energy violates the International Property Maintenance Code, which is used in many US and Canadian communities. It "states that properties are unsafe to live in if they do not have electricity and running water," according to Off The Grid News, though Speronis has both electricity and water.
Eskin also pointed out that several liens were placed on her home given Speronis had used drains but without paying water bills.
"This resident provided testimony at the code compliance hearing that she has been living in the home for the past year and using the city's wastewater system without paying for the service," said Connie Barron, a spokeswoman for Cape Coral.
Yet the Magistrate said the city abused its authority by not giving Speronis proper notice of the supposed violations. Speronis was given an eviction notice in November.
City spokeswoman Barron said the sewer would have been capped sooner, but the city decided to wait for the code hearing. The city had actually overlooked Speronis' setup until she did an interview with a local television station regarding her living arrangements.
Eskin did admit, though, that the city's code may be obsolete.
"Reasonableness and code requirements don't always go hand-in-hand … given societal and technical changes (that) requires review of code ordinances," said Eskin, who actually dropped two of three counts against Speronis.
Speronis' attorney posited that there's a conflict in the city's code, given Speronis has been ordered to hook up to the water system despite city officials' admittance that she does not have to use it.
"It was a mental fistfight," Speronis' attorney Todd Allen said of Eskin's review of the case. "There's an inherent conflict in the code."
For her part, Speronis said she does not intend to hook up to the city's water system, vowing to appeal the Magistrate's ruling.
"I know how to live off the grid completely and in a sanitary way," Speronis said in response to the city's action, according to The News-Press. "That's what seven months living in the woods taught me. I do have an alternative toilet from my days of living in the woods."
The Cape Coral resident said she will dispose of waste just as dog owners do for pets. She also plans to collect wastewater in containers for use in her garden.
Speronis already collects rainwater for bathing and other uses, all while generating electricity with solar panels.
"What happens in the courtroom is much less important than touching people's hearts and minds," she told Off The Grid News. "I think that we are continuing to be successful in doing just that and I am so pleased — there is hope! [Friday] morning, as I took my two hour walk, there was a young man, unknown to me, who drove by me, tooted his horn and said, 'Robin, congratulations on your victory yesterday, keep up the fight and God bless you.' That is beautiful."
You can share this story on social media: