Florida couple forced to uproot their 17-year-old organic garden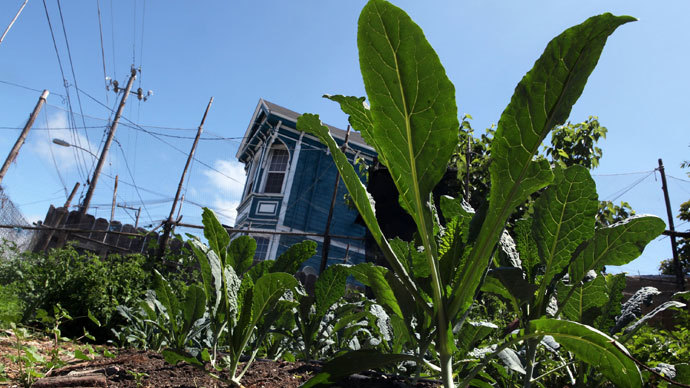 After 17 years of managing an organic vegetable garden in their front yard, a Miami Shores, Florida couple was forced to remove it due to a zoning violation.
Now, Hermine Ricketts and Tom Carroll are fighting back, suing the village after being threatened with a daily $50 fine.
"We are already feeling the impact of shopping for overpriced organic food," Ricketts said to the Miami Herald.
Village officials were not fans of the garden for a very simple reason: It was placed in the couple's front yard instead of the back, violating a local zoning ordinance. Despite the fact that the garden had been around for close to two decades, Ricketts and Carroll were told to dig it up by August 31 or face fines.
With the help of the nonprofit libertarian group Institute for Justice, the couple's lawsuit against argues that the new zoning codes violate the state Constitution, which gives residents the right to "acquire, possess, and protect" private property.
For their part, Ricketts and Carroll are not seeking monetary compensation – they're only suing for $1 – but they do want to rebuild the garden they had tended to carefully for so long.
"The right to grow and harvest your own food on your very own property is certainly part of that right to acquire, possess and protect property," Attorney Ari Bargil of the Institute for Justice, who is representing the couple, said to the Herald.
In a statement on the matter, Miami Shores officials said they were notified of the zoning violation due to a complaint from another individual.
"The Village Code, for decades, has permitted vegetable gardens in our residents' backyards, but for aesthetic purposes and otherwise, vegetable gardens are not permissible in the front yards," the statement read.

Interestingly, this isn't the first garden-related incident between Florida city governments and their residents. Earlier this year, Orlando's Jason and Jennifer Helvenston were threatened with daily fines of $500 unless they removed their front-yard vegetable garden. After the public rallied around the couple, the fines were dropped and city planners were convinced local zoning regulations had become too strict. They recommended to the City Council that gardens be permitted to exist in front yards.
"I worry that we're over-complicating the matter a little bit for a vegetable garden," planning-board member Karen Anderson said to the Orlando Sentinel.
You can share this story on social media: