Florida says mom must prove her dying son can't take standardized test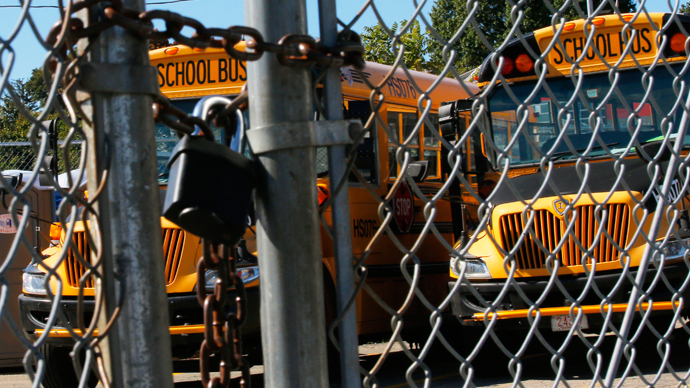 Standardized testing has become something of an obsession in the United States, but Florida's mandate is under heavy fire while the state attempts to force a disabled, dying boy to complete an exam he is simply incapable of doing.
Ethan Rediske, an 11-year-old Florida boy, is expected to pass away any day now. He was born with numerous ailments, including severe brain damage and cerebral palsy. He's also blind.
On top of these health issues, the Orlando Sentinel reports that his lungs are constantly filled with fluid these days, he's in a morphine coma and all he can do is utter a sound every once in a while.
Despite his current condition, Florida insisted that his mother Andrea provide even more evidence that her son is incapable of taking the standardized test that's adapted for disabled children and required by the state – as well as the US Department of Education.
In a letter obtained by the Washington Post, Andrea Rediske reached out to the school board and to a journalist at the Sentinel hoping to spread the word about her son's situation.
"Apparently, my communication through [the teacher] that he was in hospice wasn't enough [for the school district]: they required a letter from the hospice company to say that he was dying," the letter reads. "Every day that she comes to visit, she is required to do paperwork to document his 'progress.' Seriously? Why is Ethan Rediske not meeting his 6th-grade hospital homebound curriculum requirements? BECAUSE HE IS IN A MORPHINE COMA. We expect him to go any day. He is tenaciously clinging to life.
"This madness has got to stop. Please help us."
Unfortunately, this isn't the first time Florida's behavior regarding standardized testing has raised eyebrows. Last year, the state made Ethan take the test over the course of a two-week period, despite his family's claim that simply getting the young boy to answer "yes" or "no" was a significant accomplishment. During the examination, he was asked about eating a peach – something he cannot physically do since he receives all his food through a tube.
"He doesn't know what a peach tastes like," she told the Sentinel last year. "He will never know what a peach tastes like. Or an apple. Or bananas. It's completely irrelevant to his life."
Another child, a 9-year-old named Michael, was also forced to take the same test in Florida last year, despite the fact that he was born only with a brain stem, not a brain. Orange County School Board member Rick Roach, who watched the examination, couldn't believe what he was seeing.
"He's blind. And they're showing him pictures of a giraffe, a monkey and an elephant — and asking him which one is the monkey," Roach said to the newspaper. "I'm watching all this and just about to lose my mind."
The Rediske family's current predicament has renewed calls for Florida and other states to change the way in which they handle standardized testing and determine a disabled child's ability to take an exam. Oftentimes the only way to get a testing waiver in Florida, even for the profoundly disabled, is to get it personally from the state's Secretary of Education, a process Rediske believes is outrageous. Despite pledges by lawmakers to reform the system last year, the end result did little to change to situation.
You can share this story on social media: