Florida police to monitor cars driving near prostitution areas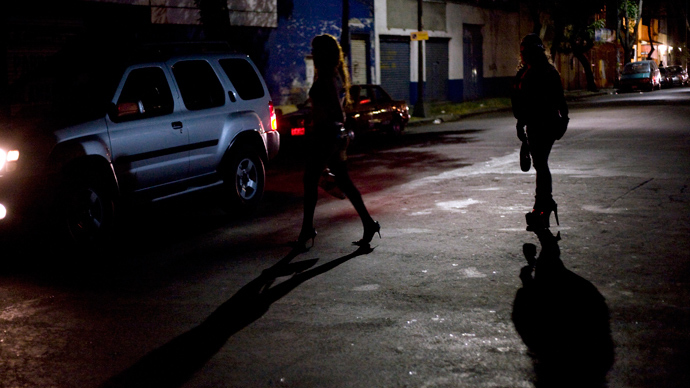 Police in Florida have begun using surveillance methods to prevent prostitution by recording license plate information from cars that drive through areas frequented by sex workers and sending a letter to that individual's home as a possible deterrent.
Starting this week, the Sanford Police Department - perhaps best known for its involvement in the recent George Zimmerman case - will employ a "Dear John" initiative to stop suspect "Johns" from hiring prostitutes. Automated license plate readers on patrol cars will be used to record suspects' vehicles, according to the Orlando Sentinel.
The ensuing letter will include a picture of the vehicle prowling the streets late at night with a close-up image of the license plate and include reminders about the potential for sexually transmitted diseases. Police spokeswoman Shannon Cordingly told reporters the effort will discourage prostitution "by stripping away the anonymity of the exchange" under the watchful eye of a veteran patrolman.  
"We're not going to be generating letters for every vehicle that drives by slow or circles," Cordingly said. "Obviously, the officer has common sense to know this vehicle's actually looking for a prostitute or they happen to be lost."
Authorities speaking to the media seemed to assume that someone's mere presence near illegal activity presumes their guilt.
"If you're loitering in the city at four or five o'clock in the morning or three o'clock in the morning after the bars let out and you're in some of these neighborhoods and you're in and out, in and out, in and out, yeah, that would kind of flag it," said Sanford police Lieutenant Joe Santiago, one of the effort's most vocal proponents.
While similar programs have already been launched in other areas of the US, civil liberties advocates have asserted that such a policy infringes on individual privacy rights.
Florida criminal defense attorney Richard Hornsby told the Sentinel that police should expect consequences if they wrongly target someone who only appears to be searching for a prostitute. By committing such a misidentification, police would "likely expose themselves to civil liberty complaints should they send these notices to innocent persons and inadvertently cause marital disruption."
"If they have sufficient evidence to believe a person is 'not lost, but in fact, circling the block looking for a prostitute,' then they have a sufficient basis to make an investigative detention for the crime of solicitation of prostitution," Hornsby continued.
The police department said that the city attorney had reviewed the Dear John program and approved it. The initiative was inspired by similar ones in Baltimore, Maryland, Oakland, California, and roughly 40 other cities.