DHS to test facial recognition technology at hockey game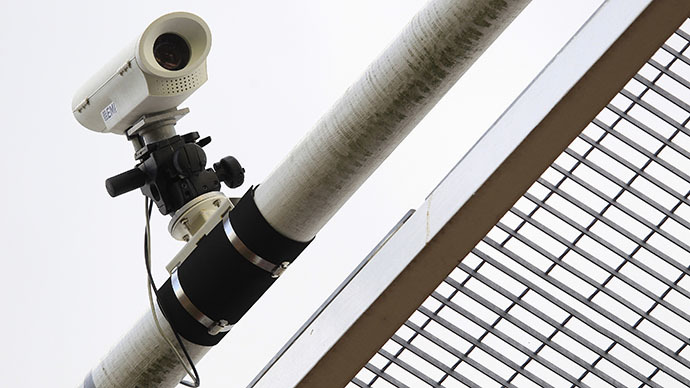 Hockey fans in Washington state will have more to worry about this weekend than avoiding a puck to the face: the Department of Homeland Security will be testing out a new facial recognition system at an arena this Saturday.
The 6,000 seat Toyota Center in Kennewick, Washington will be the site on Saturday for more than just the Tri-City American's season opener. In addition to hosting a junior ice hockey game, the arena will also facilitate the testing of a DHS program that's raising concerns among privacy advocates.
Homeland Security will have a presence at Saturday's game, but won't be conducting any pat-downs on patrons or even rooting for the home team. Instead, DHS will utilize a sophisticated system of cameras to collect pictures of attendees in real-time from as far away as 100 meters and then match them up with images of faces stored on a database.
The exercise will mark the latest drill for the DHS' Biometric Optical Surveillance System, or BOSS, and when it's fully operational it could be used to identify a person of interest among a massive crowd in the span of only seconds.
With assistance from researchers at the Pacific Northwest National Laboratory, DHS will attempt to quickly compare faces caught on camera with the biometric information of 20 volunteers. The other faces in the crowd — potentially 5,980 hockey fans — will exist as background noise to see how accurate BOSS is when it comes down to locating a person of interest.
This isn't the first time that the DHS and PNNL teamed up with the Toyota Center, but researchers are hoping that this endeavor will be the most successful yet. The New York Times' Charlie Savage reported last month that the technology was tested recently at the arena, but the government determined at the time that the product "was not ready for a DHS customer." If it succeeds this time around, however, it could open the door for deploying similar systems at international crossings and other hubs across the United States patrolled by DHS.
According to Savage, earlier testing proved unsuccessful because it took operators roughly 30 seconds to identify a person caught on camera with its database of photographic mug shots. Biometric specialists who spoke to the Times told Savage that 30 seconds "was far too long to process an image for security purposes," and he reported that, without a lightning-quick turnaround, "accuracy numbers would result in the police going out to question too many innocent people."
Of course, the DHS isn't exactly looking for terrorists at Saturday's game in Kennewick, a small city of under 100,000 residents that's roughly 50 miles from Walla Walla, WA. As surveillance camera with similar capabilities are increasingly rolled out in public spaces across America, however, similar technology could soon be implemented by small-town police departments to pick people out of crowds who have been accused of essentially anything.
"This technology is always billed as antiterrorism, but then it drifts into other applications," Ginger McCall of the Electronic Privacy Information Center told Savage for last month's report. "We need a real conversation about whether and how we want this technology to be used, and now is the time for that debate."
In the case of this weekend's event in Kennewick, attendees won't necessarily be allowed to debate the use of BOSS, but do have a way out of sorts. Video will reportedly only be recorded in certain corridors, and the PNNL paid for 46 seats in the area where camera-shy patrons can sit in order to avoid being spotted.
"If they didn't want to be videotaped, they could very easily not be videotaped," Nick Lombardo, a PNNL project manager, told the Tri-City Herald.
The option to opt-out might not exist in the future, however. VenuWorks' Cory Pearson, executive director of the company which operates the arena, told the Herald, "I think it's in our best interest to help facilitate the development of the technology."
"It's in everybody's best interest," said Pearson, who added to the Herald that the testing stage could pave the way for a product that will help facilities such as the Toyota Center manage crowds.
Meanwhile, the Federal Bureau of Investigation hopes that it will have its state-of-the-art Next Generation Identification program rolled out in 2014, which will ideally provide the FBI with a database containing the biometric information of millions of Americans. Law enforcement will then be able to use that trove of data to compare persons of interest caught on film with images already used on state drivers' licenses and other governmental files.
A lawsuit against the FBI filed by the Electronic Frontier Foundation over the NGI program is currently pending. In a complaint filed earlier this year, the EFF wrote that "The proposed new system would also allow law enforcement 'to collect and retain other images (such as those obtained from crime scene security cameras' and from family and friends) and would allow submission of 'civil photographs along with civil fingerprint submissions that were collected for noncriminal purposes."
"NGI will result in a massive expansion of government data collection for both criminal and noncriminal purposes," EFF staff attorney Jennifer Lynch said in a statement at the time. "Biometrics programs present critical threats to civil liberties and privacy. Face-recognition technology is among the most alarming new developments, because Americans cannot easily take precautions against the covert, remote and mass capture of their images."
You can share this story on social media: