Ohio town wants to implement massive aerial surveillance program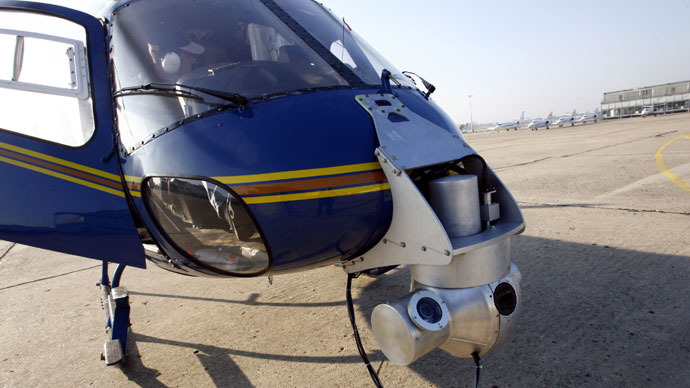 Drones aren't conducting surveillance 24/7 in the United States just yet, but that doesn't mean there's nothing to worry about: in Dayton, Ohio, manned airplanes might soon do the spying.
Officials with the Dayton City Commission recently announced that they hope to sign a $120,000 contract with a local security company in order to give law enforcement agencies an eye-in-the-sky ability unheard of elsewhere in America. While the Federal Aviation Administration continues to ponder just exactly how unmanned aerial vehicles or drones will be able to conduct surveillance in the sky, sending manned aircraft through the clouds isn't something that involves as many hurdles. That will make it all the easier if Dayton gets the go-ahead to sign-on to a pricey program being touted by Persistent Surveillance Systems.
Persistent Surveillance Systems, or PSS, currently has operations throughout the Dayton area in order to keep watch over private property, like a downtown business park. If they sign on with the city proper, though, PSS will be asked to send airplanes in the sky to snoop on any seemingly illegal activity on the ground.
To the Dayton Daily News, PSS's Ross McNutt said the city would be allowed to access a video camera feed from a piloted aircraft that could be deployed to around 10,000 feet off the ground. PSS would provide the city with the plane and the pilot, and with the right know-how the police would be able to extensively monitor an area as large as the city's entire downtown.
According to a slideshow presented before the City Commission earlier this year and since obtained by the American Civil Liberties Union, Dayton officials are looking at more than just a dinky plane outfitted with a couple of Kodaks. The city is apparently pursuing a program called "Trusted Situational Awareness," which PSS says can collect real-time data and imagery to law enforcement so the police can identify and interrupt illegal activity while at the same time collecting "valuable forensic intelligence."
That right there was enough to raise a red flag with Jay Stanley, a senior policy analyst with the ACLU's Speech, Privacy and Technology Project. After viewing the slideshow for himself this week, he writes on his blog that signing on to the "Trusted Situational Awareness" program could put Dayton's population under an ever present microscope.
"'Forensic intelligence' usually means something like, 'keeping records of everything everybody is doing so we can go back and carry out retroactive surveillance whenever we need it,'" says Stanley.
That surveillance would be captured by plane-mounted cameras described by McNutt, a retired Air Force lieutenant colonel, as being 10-times more sensitive that IMAX lenses. Should the Dayton Police Department sign-on, the agency hopes to log 120 flight hours with PSS this summer, starting with six months of surveillance at the Dayton International Airport. If the DIA's aviation department thinks PSS helps get the area secure, $20,000 will be credited towards the purchase of more equipment.
Trusted Situational Awareness in Dayton is important, says the department, because it "can be utilized to prevent and minimize acts of terrorism, crime and murder." The ACLU warns that it can do much more than that, though. "These planes are able to monitor an area four times as large as Dayton's downtown. The rapid-fire cameras used on the plane make the captured data more like film than still photos," claims the organization. "Police can zoom in on any part of the image, in real time. This means that they could track your car down the street or watch you swimming in your backyard."
The ACLU is now asking for concerned citizens of Dayton to speak up. The City Commission has decided to postpone any decision on the proposal until a thorough public discussion is conducted.
"It's basically educating the public about what this technology will actually do and what it can't do," Mayor Gary Leitzell told Dayton Daily News after a February meeting. "I think the public has a right to know, so they feel comfortable with our choice of using technology to help our police department solve crime and reduce crime."
You can share this story on social media: