Feds sue Florida for 'serious, systemic and ongoing' mistreatment of disabled children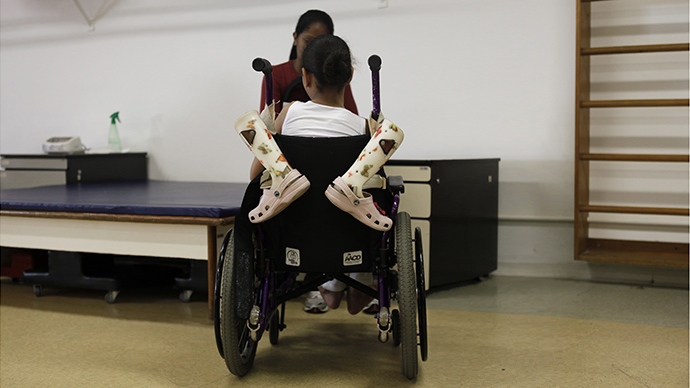 The US Department of Justice has launched a civil rights lawsuit against Florida, accusing the state of treating vulnerable children with "deliberate indifference", by "unnecessarily segregating" them from their families.
The grievance, filed on Monday, says that nearly 200 minors – many of whom need round-the-clock observation - remain cooped up in institutions (often geriatric nursing homes) as financial and bureaucratic constraints prevent them from receiving sufficient care in the community.
"As a result of the state's actions and inaction, the state has forced some families to face the cruel choice of fearing for their child's life at home or placing their child in a nursing facility," said the DOJ statement.
The legal proceedings follow informal consultations last year, which the DOJ says Florida willfully ignored, placing it in violation of the Americans with Disabilities Act, which prevents discrimination against the disabled, and entitles them to life in their communities.
Community care is generally more expensive than institutional care, and the Tea Party-led Florida legislature has cut its state healthcare budget every year since 2011 in real terms.
The removal of community provisions appears to be a calculated policy. $6 million was recently slashed from the state private-duty nursing policy, while the amount of money the state budget provides for institutional care has gone up to $550 per day. The number of children in nursing homes is now 50 per cent higher than ten years ago.
And the DOJ believes the policy goes beyond money.
"The state's screening and transition planning processes have been plagued with deficiencies.  Some children have spent years in a nursing facility before receiving screening required under federal law to determine whether they actually need to be in a nursing facility."
In 2011 Republican governor Rick Scott rejected a $40 million federal grant "specifically to support individuals transitioning from nursing facilities and other institutional settings to the community."
In the eyes of the Department of Justice, Florida's policies have resulted in egregious outcomes for the "fragile" minors, who commonly suffer from developmental disorders and traumatic brain injuries.
"In one instance, the state cut one child's in-home health care in half.  Her family could not safely provide care themselves to make up for this reduction in services, and they felt they had no choice but to place her in a nursing home.  Another child who entered a nursing facility as a young child spent almost six years in a facility before the state completed her federally mandated screening," says the DOJ.
Elizabeth Dudek, who was appointed by Scott in 2011 to head the Florida Agency for Health Care Administration, which manages the state Medicaid program, has batted away the DOJ claims. She says the state has "made improvements", and accused the Department of Justice of making a power grab.
"Washington is not interested in helping families improve but instead is determined to file disruptive lawsuits with the goal of taking over control and operation of Florida's Medicaid and disability programs," said Dudek's statement released on Monday.
In the past four years, the Department of Justice has filed lawsuits against 11 different states, accusing them of discrimination against the disabled.
You can share this story on social media: