Florida cop arrested for refusing to remove Guy Fawkes mask in Obamacare protest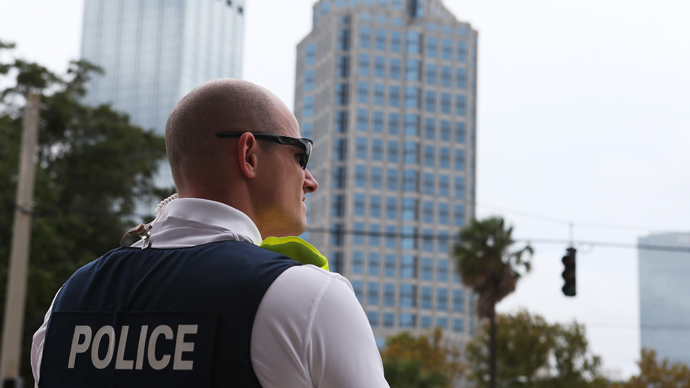 A Florida police officer who was protesting US President Obama's newly implemented healthcare law has been arrested because he refused to take off a Guy Fawkes mask he was wearing at a demonstration.
Ericson Harrell, 39, was wearing a mask, a black cape, and holding an inverted American flag when police approached him in Plantation, Florida. Harrell told officers he was "protesting Obamacare" but the police report notes "he refused each time" when he "was asked several times to remove his mask and produce some form of identification or tell us his name" and taken into custody.
The mask is the same one popularized in the film "V for Vendetta" and then by the activist hacking collective known as Anonymous.
The police report does not mention whether other protesters were at the scene or if Harrell was holding his own individual rally. It does say Harrell was not willing to tell police who he was, "stating his anonymity was his cause, thus the mask…He stated the mask was used by movement groups around the world for protests."
He only told responding officers "I'm a cop, I'm a cop" and was apprehended when one policeman found a .40 caliber pistol in his waistband.
Harrell, who was charged with obstruction of justice and with wearing a hood or mask on the street, was given a notice to appear in court and not jailed.
The statute Harrell was charged under was originally signed into law in an attempt to criminalize the Ku Klux Klan without violating the white supremacist group's right to free assembly or free speech.
Chapter 876 Section 12 of Title XLVI under Florida law classifies "wearing mask hood, or other device on public way" as a crime. Stating in full: "no person or persons over 16 years of age shall, while wearing any mask hood, or device whereby any portion of the face is so hidden, concealed, or covered as to conceal the identity of the wearer, enter upon, or be or appear upon any lane, walk, alley, street, road, highway, or other public way in this state."
Harrell's supervisor at the North Miami Beach police told the Miami Sun-Sentinel that the officer is a 15-year veteran of the force and has been placed on paid administrative leave pending the outcome of the investigation.
You can share this story on social media: