US facing flight delays after sequester furloughs kick in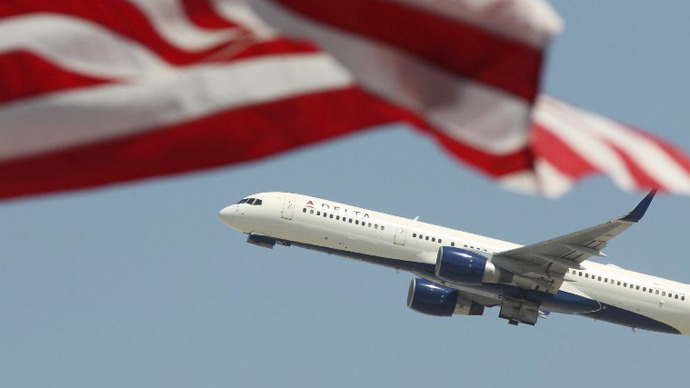 Sequester furloughs have started to kick in across US airports, resulting in staff shortages that on Sunday began triggering flight delays across some of the country's largest airports. The FAA warned that delays could be as long as 3.5 hours.
Staffing of air traffic controllers was reduced by 10 percent across the country, which reduced the efficiency of those maintaining the safe and orderly flow of air traffic in the US. Travelers at New York's LaGuardia and John F. Kennedy airports reported hour-long delays Sunday night, even though flight conditions were good.
"Relatively good weather throughout the country and light traffic helped minimize air traffic delays," Federal Aviation Administration spokeswoman Laura Brown told Reuters. But the more significant delays are expected to begin Monday.
Due to the cut in government spending, the agency is required to cut $637 million from its $16 million budget. Furloughs of 47,000 FAA employees and 13,000 air traffic controllers will last through September and save the agency $200 million.
About 1,200 to 1,500 US air traffic controllers will stay home each day, Paul Rinaldi, president of the Air Traffic Controllers Association, told Reuters. Controllers handle about 25,000 US flights per day, which a smaller staff will now have to manage alone.
Those who will be hit hardest by the furloughs will be travelers passing through busy airports. The furloughs began Sunday night, and caused Los Angeles International Airport to experience a two-hour delay at 10 pm ET and Newark Liberty to experience 28-minute delays. San Francisco saw a 58-minute delay, while Orlando had a 29-minute delay. 
Throughout the US on Sunday, about 70 flights were delayed by an hour or more, but airport spokesman Marshall Lowe told AP he did not know if all of these were due to the staffing cuts. At least 6,000 flights, which are about a quarter of all US flights, are expected to experience delays on every given day. 
Mark Duell, an employee at the flight tracking website FlightAware, told AP that the hour-long delays at JFK and LaGuardia were a direct result of the sequester furloughs.
Delta Airlines told AP that it was "disappointed" in the government furloughs and warned travelers to expect delays in New York, Philadelphia, Chicago, San Francisco, Los Angeles, San Diego and Fort Lauderdale in the upcoming days.
Last week, the FAA warned that delays may average about 50 minutes per flight at Chicago's O'Hare International Airport this week, which is  "the equivalent of every day being a bad weather day diminishing the capacity of the national airspace system", the Chicago Tribune reports.
Some organizations have even warned the FAA that the furloughs would ultimately take a toll on the US economy, thereby making the budget cuts useless.
"Our nation's economy and businesses will pay a very steep price that significantly outstrips savings produced by furloughs," the Global Business Travel Association warned the FAA in a letter on Friday. "If these disruptions unfold as predicted, business travelers will stay home, severely impacting not only the travel industry but the economy overall."
A coalition of airline trade groups and pilot unions on Friday sued the FAA to try to stop the furloughs from going into effect on Sunday, claiming that the cuts would delay flights for as many as one third of all air passengers. But the FAA says that with the massive budget cut forced upon the agency, it has no choice but to do so.