Overcome by porn: 50 Shades of Grey takes America by storm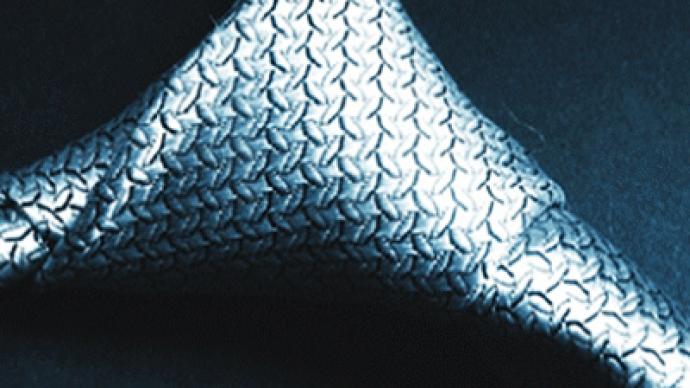 Women across the world are enamored with 50 Shades of Gray, an erotic novel that has become an international smash. The book has certainly found its fan base, but are thousands of women buying a book that encourages them to submit to male domination?
It has topped the New York Times best-seller list and caused commotion from all corners of the globe. Author E.L. James and her novel 50 Shades of Gray have each become breakthrough sensations in their own right. But as women readers across the world hang onto every word of an erotic love tale, it's possible that the women's liberation movement is making a massive u-turn? Some say the book encourages its audience to subscribe to an ethos of submission by perpetuating rape culture, and essentially bringing feminism to a freezing halt.James acknowledges that her highly successful story spawned from her love for the already-established Twilight franchise. She began 50 Shades by authoring fan-fiction, early excerpts of which have resurfaced on the Web and showcase an attempt to capture and mimic the success of the Twilight series. In earlier attempts at creating 50 Shades, James relied on using the male and female leads in Stephanie Meyer's Twilight collection, Edward and Bella, whom she eventually reworked into her own creations. While borrowing from themes popularized by Twilight, critics largely agree that James has managed to make the most capitalizing on a market that has an audience still on the rise. Beneath the surface, however, the message within 50 Shades can be considered much less of a fairy-tale that instead teeters on borderline propaganda pushing women to put on hold the generations of effort gone into achieving what they have today in terms of equal rights."It's a rape fantasy!" television personality and board-certified specialist Dr. Drew Pinsky exclaims on his HLN TV program. Appealing to a panel of women that endorsed the book as a love story, Pinsky insists that the novel is making waves for all the wrong reasons. In the book, the lead male character, Christian, sweeps a young virgin, Ann, off her feet. As a pseudo-relationship is forged, however, the women is asked to sign a contract in which she agrees to essentially become the slave — sexual and otherwise — of her new superior. "The Dominant accepts the submissive as his, to own, control dominate and discipline," agrees the couple, "for purpose of discipline [and]…for his own personal enjoyment."Pinsky condemns any attempts to consider the book a love story between two consensual adults, though. Instead, he argues, Christian uses his relationship with Ana to exercise his mind-control capabilities and as more is learned about the characters, it is discovered that, between the lines, the writing is hardly an innocent tale of romance. "We find out in the course of the book that [Christian] was sexually abused," explained the doctor, "And this is all him acting out his pathology as opposed to it being two consensual adults."The doctor explains that the BDSM ideas detailed in 50 Shades is fine in his opinion, but is worried that women will continue to buy into what could be considered romance as instead rape. "I don't really think it's erotic. I think it's kind of porn trash," radio host Judith Regan adds to HLN. She says that not only did she not find the book interesting, but the talk show host reveals it also reminded her of an interview she conducted on her own recently with an abuse victim. Speaking of the recent sit-down, Regan says she heard tales of how an abusive husband controlled and insulted his wife, and, as she says, "wanted to control just about everything she was doing.""And that," adds Regan, "is pretty much what the relationship in this book is about."Amy Robach for NBC News says that the novel answers the age old question of what do women really want. Never mind being left breathless or captivated, saysRobach, this book makes it clear that domination and submission are on the minds of most American women."We had the women's movement which really was about empowering women not to be submissive to men anymore. Now we've moved onto a new generation where women are more empowered than ever before, the glass ceiling has been broken and we have as much control as we want. And what are we longing for? A little bodice ripping," answers author Laura Berman to NBC. Pinsky, however, insists that a reader of 50 Shades can walk away with a different idea. "We are going beyond the issue of when people often start by saying men are aroused with visual material. Women are aroused by using more of the brain. But this is going beyond that," he tells NBC. "The swept away fantasy is common. But it's going beyond that into actual violence against women," he says, calling into question how Ana willingly signs herself away to Christian and allows her to be physically abused in the book.The doctor adds that encouraging that kind of activity, even unintentionally, can only reopen emotional scars for vulnerable readers that were the victims of a whole other time of crime. "There is a lot of violence against children in this country — there are various kinds of physical abuse," says Pinsky. "People subjected to those experiences are especially aroused by these images. I'm not saying the average women can't be, but it's especially arousing for them."Despite criticism from Pinsky and others, the book has only become more popular as of late, with a virtual bidding war erupting over the print rights for James' controversial novel. Supporters have come out to call the book empowering and enlightening, but others have questioned if the darker contents masked by reader-friendly fan fiction are only subconsciously subjected onto the reader. "What I found fascinating is that there are all these supermotivated, smart, educated women saying this was like the greatest thing they've ever read," Meg Lazarus, a 38-year-old former lawyer, explains to the New York Times. "I don't get it. There's a lot of violence, and this guy is abhorrent sometimes."Gurumommy.com, a popular parenting blog, adds in a write up of their own that the sexy dialogue is sending women in droves to pick up copies, but also acknowledges that 50 Shades is authored to make the message on the surface stick out more than what lies beneath (the site describes James as an author "who likes her adjectives in triplicate, since the author couldn't trust us (or herself) to think we could picture the image with only one descriptor"). Eighth-grade reading level aside, the Guru Mommy adds, "When you put the book down, you will actually want to have sex with your husband. Like, a lot."With sales figures and online write-ups suggesting that thousands of others are following suit, the end result could certainly see an age of renewed sexual energy in America — but unlike the free-love revolution of the 1960s hippie counterculture, some say James is encouraging women to not be free with their bodies — but instead to be free in offering it up to men. Will it spawn a new sexual movement in the US? Or just the complete disintegration of feminism? Depending on how many women follow Ana's lead and sign their bodies away, literally, that's a tale that only a well-authored sequel — and time — can tell.
You can share this story on social media: