FEMA hides up to a thousand trailers from displaced Sandy victims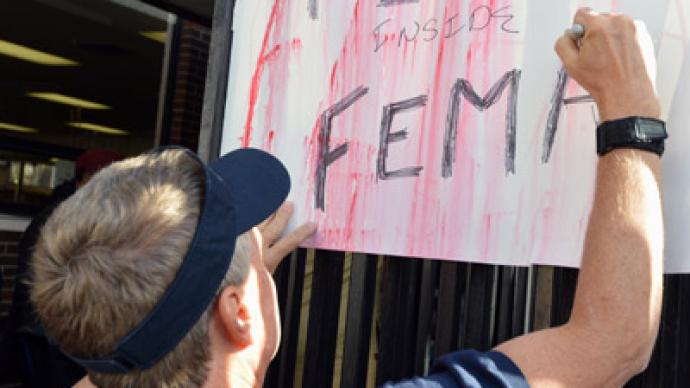 Thousands of displaced families in New York and New Jersey have no homes to go to, but FEMA has not provided the housing it promised, even though it has up to 1000 winterized mobile homes sitting in a parking lot at a storage site in Maryland.
It has been more than a month since Hurricane Sandy devastated the Northeast, but 11,000 families are still waiting to have their homes repaired. With freezing temperatures approaching, a lot of these families are facing the cold with no heat or electricity.Many of these displaced families have requested that the Federal Emergency Management Agency (FEMA) supply them with temporary mobile homes to endure the winter. The agency provided trailers to families most recently in North California after Hurricane Irene destroyed coastal homes.The post-storm devastation remains so dire in some parts of New York that displaced communities have made please for donated RV's once they heard FEMA was denying their request for mobile homes"We know they're out there. They're sitting in a lot somewhere and people need to have them," Brooklyn resident Scott McGowan told ABC.ABC's Eyewitness News flew over the FEMA lot in Cumberland, Maryland with a helicopter and discovered the hundreds of unused trailers."You wonder why they are still here six weeks after the storm," wrote ABC reporter Jim Hoffner.But rather than ask for FEMA's trailers, which are well-equipped for winter, New York City Mayor Michael Bloomberg said he doesn't want them."We don't need FEMA trailers. We are focusing on getting people back in their homes," he said. The mayor started a program called Rapid Repairs, a free program that helps residential property owners affected by the hurricane make emergency repairs. The program fixes residents' heat and electricity, allowing them to remain in their homes while they wait for other repairs.But at the slow rate of repairs, it could be months before all of New York City's displaced families see their homes repaired. Only 1,200 homes have been fixed since Rapid Repairs was launched five weeks ago, leaving 11,000 families still waiting.While Bloomberg opposes the use of FEMA trailers, even the agency says it doesn't want to provide them."We don't have the open space and the open space we have is back in flooded areas and we don't want to compound the problem of putting people in harm's way by putting units where they don't belong," Michael Byrne of FEMA told ABC. But reporter Jim Hoffman pointed out an enormous empty field with many acres of land.Congressman Frank Pallone of New Jersey disagrees with Bloomberg. The legislator is pressuring FEMA to provide trailers for displaced families, but has so far only received a few dozen."It's getting cold, you can't expect people to rely on neighbors, relatives, hotels forever, they need this housing," he said.As the temperatures begin to sink, displaced families continue to hope for a warm trailer to survive the winter in, but FEMA is keeping them hidden in their storage lot, 300 miles away from New York.
You can share this story on social media: