Thousands denied FEMA assistance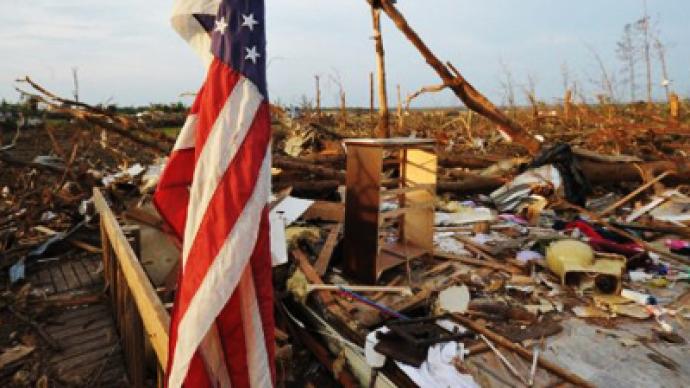 The Stewart family home in Jefferson County, Alabama suffered a little bit of damage during last month's tornado. As a notice from the Federal Emergency Management Agency (FEMA) puts it, in fact, the damage was only "minor."
The memo goes on to read that, based on the inspection conducted by FEMA following the natural disaster, the Agency "determined that the disaster has not caused your home to be unsafe to live in."
"It is reasonable to expect you or your landlord to make these repairs. At this time you are not eligible for FEMA housing assistance," it adds.
There is no roof over the head of Jonathan Stewart. Nor are there walls. There aren't any floors and, unless you count what's left of a cinderblock foundation, a pile of bricks and a beat down wooden deck as a home, there really isn't much of anything. "Insufficient damage"? That's what FEMA says.
Speaking to the Daily Mail, FEMA's Linda Lowe said that findings of insufficient damage are often correct; many of those who filed for assistance—which includes up to $30,000 in grant money for each case—are most often ineligible. And while applicants have the ability to appeal FEMA's findings, less than one percent of the 25,081 applicants actually follow through. As the Stewarts and thousands of others go without assistance, millions of dollars in federal aid is going unused.
Nowhere does FEMA outline what exactly "insufficient damage" is, but the Stewarts are not alone. The Birmingham News reports that "insufficient damage" is the top reason in the state that people are deemed ineligible for assistance. Lashunta Tabb's home in nearby North Smithfield Manor lost its siding and half of her roof. Still, that isn't enough for FEMA to cut a check. Unfortunately far too many people are unaware of a 60-day deadline to file an appeal and thus miss a second chance at, well, a second chance.
Following 2005's Hurricane Katrina, FEMA came under scrutiny by the General Accounting office for awarding millions of dollars in emergency grants to home owners that should have been unqualified. More than half of the applicants asking for assistance after Hurricane Dolly ravaged Texas in 2008 were denied for the same reason.
FEMA spokeswoman Renee Bafalis tells The Birmingham News that those deemed ineligible initially are urged to file an appeal.