Feds illegally poured through journalist's computer for evidence of hacking, says attorney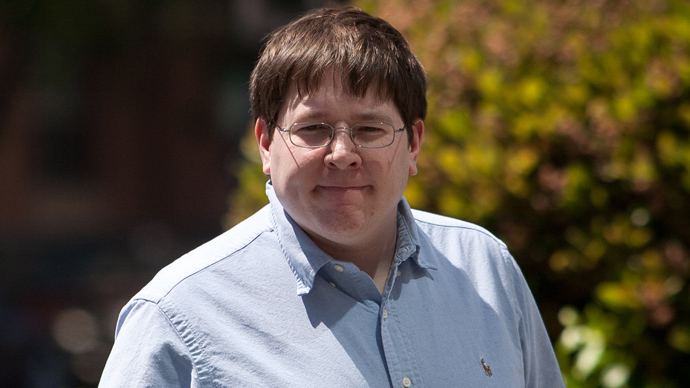 US federal agents illegally obtained evidence against a former Reuters journalist when they scoured his computer for documents that were not mentioned in the search warrant they were granted, the reporter's attorney argued in court Wednesday.
Matthew Keys, 26, was charged in 2012 with conspiring with hackers from Anonymous, providing them with a username and password that allowed them access to the Los Angeles Times website and subsequently change a headline. When federal agents investigating Keys examined the computer in question they accessed files Keys had sent about his own case to another journalist who was at work on a book about the anonymous hacking collective.
Keys' attorney, Jay Leiderman, asked the US district court in Sacramento to suppress any evidence the police obtained from that computer.
"The warrant did not give the power to rummage through the journalist's files," he said Wednesday, nothing "there is no indication of why all this information needed to be seized."
How the prosecution plans to use the information investigators obtained is unclear, however authorities said the search needed to be conducted because files relevant to the investigation may have been deleted by Keys. Attorneys cited child pornography investigations, in which entire hard drives are often seized, provide a precedent for this case.
According to the Guardian, Leiderman responded by saying that a child porn example is irrelevant to this case and asserted that Keys, being a journalist, would not destroy files that were part of an ongoing story.
The Justice Department claims that Keys, dejected over being fired from his job at KXTL Fox 40, a Tribune Company subsidiary, gave his log-in information to hackers in an Anonymous chat room and told them to "go f**k some shit up." They then infiltrated the site of the Los Angeles Times, another Tribune company, and changed a headline from "Pressure builds in House to Pass Tax-Cuts" to "Pressure Builds in House to Elect CHIPPY 1337," a reference to another hacker group.
Prosecutors explained that the plan was designed to "make unauthorized changes to web sites that the Tribune Company used to communicate news features to the public; and to damage computer systems used by the Tribune Company."
Leiderman said that Keys was acting as an embedded journalist when the alleged criminal activity occurred in 2010. Keys faces up to 25 years in prison and a $750,000 fine if convicted, although prosecutors told the Associated Press last year that Keys would likely be sentenced to between 10 and 27 months behind bars because he has no criminal record. Keys has refused a plea bargain.
"He met these people in chat rooms, they knew he was a journalist and knew where he used to work," Leiderman told the Huffington Post, adding that the credentials Keys provided were incapable of gaining access to the LA Times site. "There's an incongruity to all of this that we're hoping to get to the bottom of in the next couple months."
You can share this story on social media: