FDA ban on gay blood donors outdated, discriminatory - US lawmakers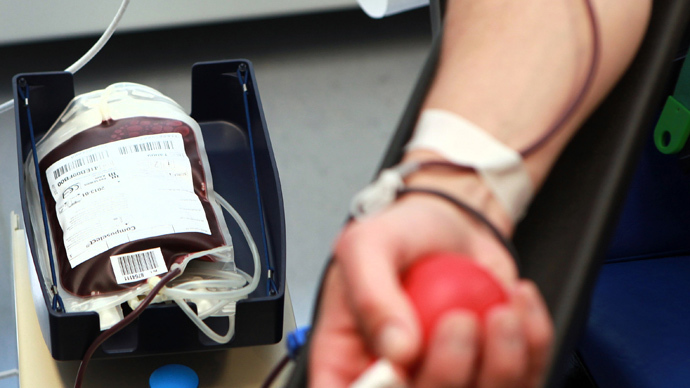 US lawmakers are calling on the Department of Health and Human Services to end the ban on blood donations from homosexual men, a prohibition enacted thirty years ago during the height of the HIV/AIDS scare in America.
Senator Elizabeth Warren (Democrat-Massachusetts) and 86 other Congressional representatives signed a letter to the Food and Drug Administration calling for an end to the policy, which forbids "men who have had sex with other men (MSM), at any time since 1977."  
The reasoning for the ban, according to the FDA's website, is based on the idea that men with a "history of male-to-male sex is associated with an increased risk for exposure to and transmission of certain infectious diseases, including the HIV virus, that causes AIDS." 
Yet the American Medical Association, the largest group of doctors in the US, has called for a reversal of the ban, declaring the policy outdated. 
"The lifetime ban on blood donation for men who have sex with men is discriminatory and not based on sound science," AMA Board member said in June. "This new policy urges a federal policy change to ensure blood donation bans or deferrals are applied to donors according to their individual level of risk and are not based on sexual orientation alone." 
Senator Warren's letter, signed by both Democrats and Republicans, was inspired by a constituent who contacted her to say he hoped to donate blood for the Boston Marathon bombing victims but, as a gay man, was denied. 
"For me, this has been a basic issue of fairness and of science – blood donation policies should be ground in science, not ugly and inaccurate stereotypes," Warren wrote on her website, adding that the man's letter inspired her to dig "deeper into this discriminatory ban and I didn't like what I found. Current policies are contrary to science." 
Critics of the ban say it is one of the lingering results of the 1980s-era stereotype that AIDS was primarily a "gay disease," an idea medical science has rendered irrelevant.
Despite the growing animosity, the ban remains in place throughout much of the world. Spain, Australia, Italy, Russia, Uruguay, Mexico, and Poland are among the few nations without a ban. Several others mandate a time restriction for men who have had sex with men, often one year but in some cases they may not donate for five years since their last sexual encounter. 
Current medical regulations in the US require a 12-month waiting period before blood donations are allowed from people who have had sex with an HIV carrier or someone with viral hepatitis. Screening tests for those diseases, though, are capable of identifying HIV within nine days and hepatitis C in approximately seven days, according to the Red Cross. 
For years the FDA has preached patience, calling for time so that tests "can assure that blood recipients are not placed at an increased risk of HIV or other transfusion transmitted diseases." 
That promise, for Warren, American Medical Association, and others, has taken too long to come to fruition. 
"Our current policies turn away healthy, willing donors even when we face serious blood shortages," the letter went on. "Further, the existing lifetime ban continues to perpetuate inaccurate stereotypes about gay and bisexual men, and fosters an atmosphere that promotes discrimination and discourages individuals from seeking HIV testing and treatment services."
You can share this story on social media: