FDA urges action as US sees doubling of energy drink-related hospital visits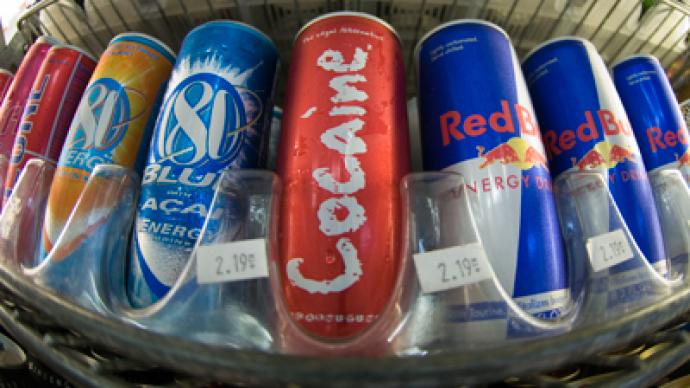 Energy drinks have been labeled a "rising public health problem" in the US, as youth consumption of the high-caffeine beverages has doubled the number of people seeking related emergency medical treatment.
­A new US government survey estimated that between 2007 and 2011, the number of emergency hospital visits connected to the chemical-loaded and high-caffeine drinks increased from 10,000 to 20,000.
Sales of energy-boosting beverages, frequently targeted at students overburdened with work, have been rising steadily. In 2011 alone, the sales volume for such energy drinks rose by nearly 17 percent, according to Beverage Digest.
Many emergency patients admitted for heart attacks, anxiety, and irregular heartbeats have admitted to using energy drinks prior to their hospitalization, according to physicians. The government report labeled the over-consumption of these beverages as a "rising public health problem," and suggested they may cause seizures, nervousness and raised heart rates.
Personal stories from physicians describe worrying emergency situations in which they treated individuals overdosing on caffeine as a result of the drinks. A suburban Cleveland emergency physician, Howard Mell, told Associated Press that he recently treated a patient who consumed three energy drinks in the space of an hour, equal to drinking 15 cups of coffee. He described the patient as having essentially conducted a self-stress-test: "If he had a weak heart or suffered from coronary disease and didn't know it, this could have precipitated very bad things."
Another emergency physician, Steve Sun, reported attending to one patient who had mixed energy drinks with alcohol, leading to renal failure caused by dehydration. He luckily survived, as he had no underlying health conditions, but the situation could have been very serious had this not been the case.
The doubling of patients being admitted to hospital for emergency medical treatment has occurred alongside a rise in the availability, promotion and distribution of the products, specifically in places aimed at youth consumption such as college campuses. A survey conducted last week by the Substance Abuse and Mental Health Services Administration found that people between 18 and 25 years of age were the most common age group seeking such emergency treatment.
Although no specific products were named in the survey, the energy drink industry responded through the American Beverage Association, telling AP: "This report does not share information about the overall health of those who may have consumed energy drinks, or what symptoms brought them to the ER in the first place."
The survey results came after accusations that 'Monster' energy drink was responsible for the death of a 14 year-old Maryland girl in December 2011. She died from a heart attack instigated by 'caffeine toxicity' after she drank two 24-ounce cans of Monster.
Two US senators are calling for the Food and Drug Administration (FDA) to investigate the safety concerns surrounding energy drinks and their ingredients. FDA spokesperson Shelly Burgess told AP that they will continue their "ongoing investigation into potential safety issues surrounding the use of energy drink products."