Family of six killed by police cruiser in Ohio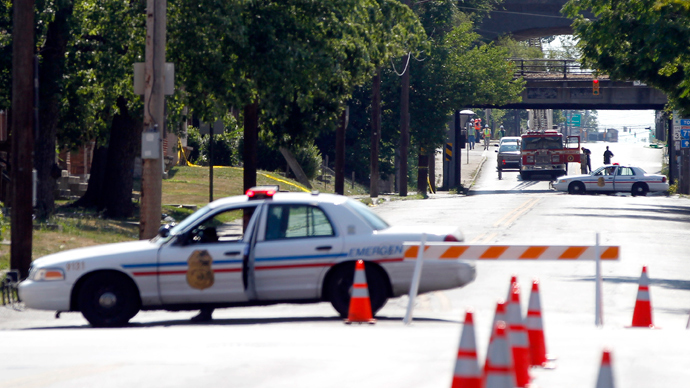 A police vehicle crashed into a family's car at an intersection just outside of Columbus, Ohio, killing six people and injuring the officer.
Two parents and their four children – including a two-year-old girl – were killed Friday night after a police cruiser crashed into their Toyota Corolla. The police car was reportedly responding to an armed robbery at a local McDonald's when the collision occurred. The officer is in stable condition, though he is being treated for a serious head injury.
The accident occurred around 1:30 a.m. at an intersection with traffic lights. According to the Associated Press, police say that dash-camera video from the injured officer's cruiser shows the victims' car entered the intersection after running a red light and came to a complete stop before the collision. An investigation is under way to determine how fast the police cruiser was traveling.
Preliminary reports indicate that no one in the family was wearing a seatbelt at the time of the accident, and that the toddler was not in a child safety seat.
"That car was just totaled, and they probably died instantly," Perry Township Police Chief Robert Oppenheimer told AP. 
Investigators believe that the officer, whose name has not been released, was employing both his cruiser's lights and sirens when the crash occurred. As for why the victims' Corolla stopped in the middle of the intersection, Oppenheimer noted that there is only speculation at this point.
"One could speculate that he may have realized he ran the red light and was going to back up," Oppenheimer said."Or he saw the cruiser coming...and he froze. We can only speculate, because we'll probably never know."
The family was identified as driver Eid Badi Shahad, 39; Entisar W. Hameed, 31; Shuaa Badi, 16; Amna Badi, 14; Ekbal Badi, 12; and Lina Badi, 2.
According to neighbors interviewed by the Columbus Dispatch, the family had moved to Ohio from Iraq as refugees searching for a better life. The girls, especially, drew extremely positive recollections.
"They were so smart and so sweet," said Heather O'Bannen, the director of the Westside Academy, where the girls went to school two years ago. "It's a very sad situation."
"When we were with them, we were letting them know they had options in their life, opportunity they didn't have in Iraq...I even sold Girl Scout cookies with them. They were very bright, very happy girls."
Perry Township police are currently involved in a comprehensive investigation of the accident, which they expect to complete in about a week.