Facebook tracks all written messages, posted or not – study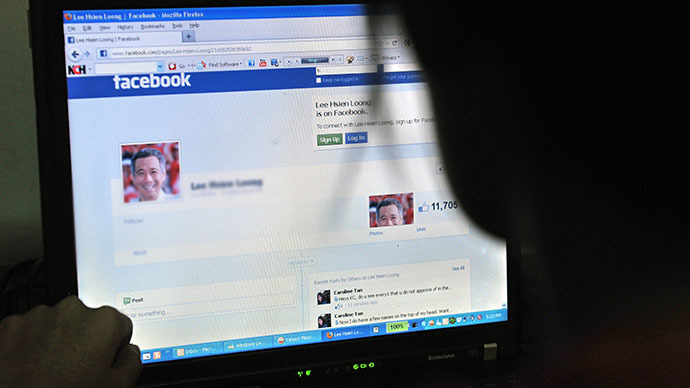 Facebook records everything users type on the social networking site, including notes they choose to delete instead of posting, according to a new study that tracked the habits of nearly four million people.
Adam Kramer, a data scientist employed by the social network, studied the profiles of 3.9 million people for the study, dubbed "Self-Censorship on Facebook." Kramer viewed activity on each profile by monitoring its HTML form element, which is made up of HTML code that changes whenever a user types in their Facebook chat, status update, or other areas where they speak to others.
While Facebook claims it does not track the words that are written in each box, the company is able to determine when characters are typed, how many words are typed, and whether they are posted or deleted. Kramer, with help from student Sauvik Das, spent 17 days tracking "aborted status updates, posts on other people's timelines, and comments on other posts."
They found that men are more likely to self-censor than women and that those users with a homogenous group of friends were more likely to censor themselves, perhaps in an attempt to best phrase the response that will be more acceptable to the rest of the group.
"Decisions to self-censor appeared to be driven by two principles: people censor more when the relevance of the communication 'space' is narrower," the report said. "In other words, while posts are directed at vague audiences (e.g. status updates) are censored more, so are posts directed at specifically defined targets e.g. groups, because it is easier to doubt the relevance of content directed at the focused audiences."
The study determined that 71 percent of users self-censored at least once over the 17 day span, although the researchers noted that the remaining 29 percent would have almost certainly self-censored had the study lasted longer. The most commonly-censored mode of expression were comments.
"Surprisingly, however, we found that relative rates of self-censorship were quite high: 33 percent of all potential posts written by our sample users were censored, and 13 percent of all comments," they concluded.
The researchers said that users choosing not to post could be worrisome because "Facebook loses value from the lack of content generation." The data is being collected so that the social networking giant can devise new ways to promote users to share more.
Facebook has long been a target for privacy advocates who say the company is too liberal in how it uses customer data. Yet the company's terms and conditions mention that such studies may be conducted and that even information not specifically submitted to the site is allowed to be collected.
In October the Wall Street Journal reported that Facebook is testing technology that would hugely increase the amount of information it collects on customers. Ken Rudin, Facebook's head of analytics, said the company is preparing its infrastructure in preparation to store data about how long a user's mouse hovers over a certain area of the website and whether the newsfeed is visible at any given moment on a person's mobile phone.
You can share this story on social media: