Banned from Facebook for being too sexy?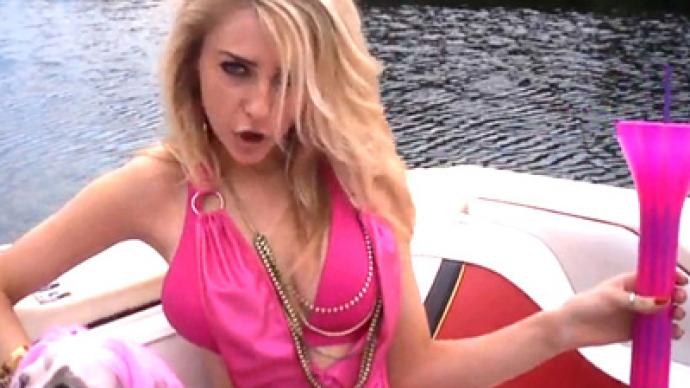 Bathing suit shots posted to Facebook are earning bans to users of the site, who says some images constitute "inappropriate sexual conduct," even if nudity isn't in the picture.
On the top of the list of those affected for being too enticing — even while clothed — is 17-year-old celeb Courtney Stodden. Stodden, the teenage wife of Lost actor Doug Hutchinson, says that her personal Facebook account has been shut-down by the social media site for being sexually inappropriate. Nowhere on her page, however, does the model / recording artist / actress / dancer and all around Internet It-Girl pose in the buff. Not only is she not yet legally adult, but in no images does she pose in an adults-only manner.Is Facebook taking sites offline on an as-is basis for whatever reason they chose? Stodden's mother says the ban is because others are envious of her unexplainably-famous offspring."It's the jealousy from the women towards her," mom Krista Keller tells E! News. "The men love her, the women hate her.The women report the photo because it's so easy to do. You just click a button. They think she's too sexy, they all report her together, and it's done."What kind of country are we living in where a fantastically toned 17-year-old blonde jane of all trades can't pose in her underwear on the Internet? Is this not what the Internet was created for? Stodden has since fired back, this time taking the fight to Twitter; after her Facebook page was shut-down, she posted a scandalous photo of herself with the caption, "Too sexy for Facebook?"Elsewhere on Facebook, officials for the site have yanked down fan pages that glorify the personality. Her mother still insists, however, that she is just being singled out."There is nothing on her page you wouldn't find anywhere on Facebook," says Keller. "She has never done any nudity.Not a breast, not even a butt cheek. It's just her in a bathing suit!"In the meantime, Stodden still can find solace in the accepting arms of the microblogiverse. She has around 45,000 fans on Twitter. There she generates grotesquely gruesome gems abundant with alliteration, such as this recent message: "Wildly wiggling & jauntily jiggling myself to jolting jams as I friskily flaunt a flirty outfit completed w/sexy white 7in. go-go boots."Could Keats have made anything as magniloquent himself? Mayhaps. In the meantime, that will just have to be another debate for the Internet to settle.
You can share this story on social media: